Binauralmedia and Nodar Artist Residency Center announce:
PAIVASCAPES #1
STRUCTURE, PROCESS AND PERCEPTION OF A RIVER
Nodar Artist Residency Program for 2010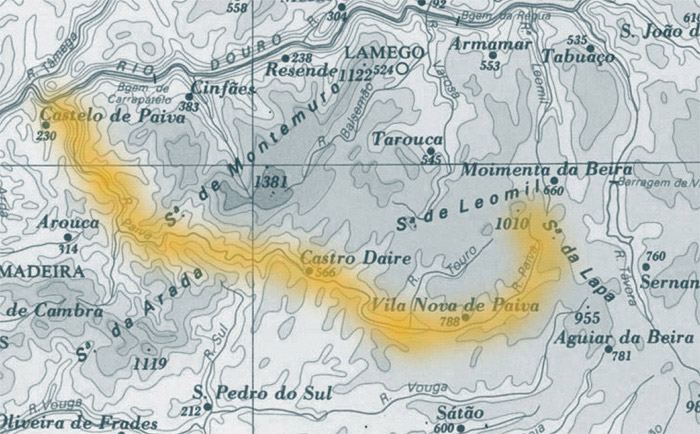 Art disciplines: Phonography; sound installation; vocal performance; sound poetry; acoustic, electroacoustic or electronic improvisation / composition.
The Nodar Artist Residency Program for 2010 will have a single aggregating subject: the Paiva River. Throughout the year, from winter to autumn, several multidisciplinary art projects (having sound as a central element) will be developed in a context-specific perspective, interacting with the river's different geographical areas, from its spring to its mouth.
1. The Paiva River and riverside landscapes
The Paiva River is a Portuguese river with around 112 Km of extension that is born near the village of Carapito in Moimenta da Beira (40° 56′ 19.81'', -7° 37′ 38.44'') and flows into the Douro, near Castelo de Paiva (41° 3′ 56.16'', -8° 15′ 41.34''). Not many years ago the Paiva was considered to be one of the least polluted rivers in Europe and is classified by EU as a Site of Community Importance within the Natura 2000 network. The village of Nodar (+40 ° 55′ 6.51'' , -8° 3' 34.21") is located near the river's half-way point, in a valley formed by the Montemuro and Gralheira mountains.
The Paiva is a mountain river with a rocky (granite or schist) and curvy bed that can either show its rebellious side (brave waters associated with the seasonal variations of its torrent and with the narrowness and unevenness of its bed in several zones), or gently slide through magnificent terraces of agricultural fields, crossing small rural riverside villages (like Nodar) that live in close connection with the river. The Paiva River is surrounded in most of its course by lush vegetation that includes several distinct and protected ecosystems.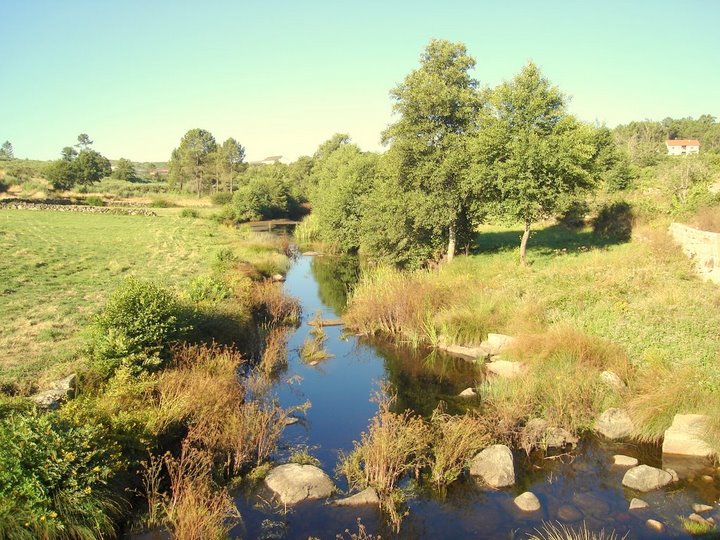 (The Paiva River near Vila Nova de Paiva: photo by SOS Rio Paiva)
Many aspects and perceptions can be associated with river landscapes, which together form the strength and the manifold importance of rivers. Firstly, river landscapes supply an energy potential (the energy of water and sediments that flow down the course of the river) and also a surface, a space on which both vegetation and human constructions settle. A lively river is one that maintains these two elements, which form its natural capital, present and active, being that the loss of productivity of a river (for pollution, for mistakes in the agricultural, urban or energy planning, etc.) can take centuries to be put back. On the other side, each river has its own personality given by the inscription of a historical mark associated with the multiple uses and perceptions throughout time, superimposed layers of practical, cultural, symbolic and spiritual values that form the human capital of a river.
2. Paivascapes #1
Having the previous reflections in mind, the organizers of Nodar Artist Residency Center decided to dedicate the year of 2010 to a collective artistic reflection about the Paiva River, a tribute to a small river that is a symbol of a region that (still) can live in a well-balanced interaction with nature. Following the relationship that exists between the village of Nodar and the Paiva River, which already motivated the development of several art works, it was now decided to spread this interaction to the whole course of the river, giving a sense of coherence and plurality to the reflection, tracing continuity and rupture lines, patterns, densities and transitional zones, either related with geographical and human elements.
Paivascapes #1 will comprise a series of artist residences, defined as a set of spatial-temporal contexts (from the spring to the mouth of the river / from Winter to Autumn) in which the several selected art projects will be developed. These projects should propose a specific conceptual and working approach and have a focus in one or several of the aforementioned art disciplines (related with experimental sound / music), which can be complemented with other disciplines like sculpture, video, photography, performance, etc.
Each project will have a 10 minute sound / musical composition as the final product (with the purpose of publishing a double CD), besides other elements that might be part of it (additional sound compositions, performances, installations, etc.). In parallel, a video documentary (about both the Paiva River and the artistic interventions) and an in-depth sound map of the Paiva River will be carried out by Binaural.
In the beginning of 2011 the several art works will be presented to local audiences, in the context of an event that will include conferences, concerts, video screenings and a retrospective exhibition of the whole project. This exhibition will later follow an itinerancy through several towns along the course of the Paiva River and will have an underlying program of educational activities intended for children and youths.
Some possible subjects of reflection for the art projects: water (matter and flow), topography, geology, climate, soil, flora, fauna, architecture (bridges, water mills, walls, farm-yards, irrigation systems, promontories, chapels, etc.), history and local memory (personal or collective, real or mythical), uses and activities (fishing, agriculture, shepherding, commerce, festivities, religion), ideology and norms, perceptions (subjective relation with the place, colors, patterns, smells, textures, memories and intimate associations, psycho-geographical drift etc.).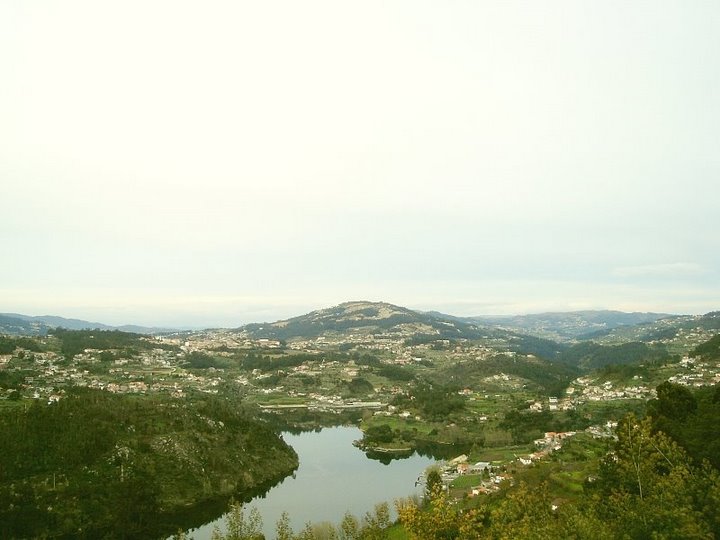 (The Paiva River near its mouth in Castelo: photo by SOS Rio Paiva)
3. Project's spatial-temporal development
A. Field work
Six 2-week artist residencies modules, each one with two artists, on the following periods:
•    Winter (February 2010): From the spring of the river to 28 km
•    Spring (April 2010): From 28 Km to 56 km
•    Summer (July 2010): From 56 Km to 84 Km
•    Autumn (October 2010): From 84 Km to 112 Km (mouth of the river)
B. Presentations / Editions
•    February 2011: Final public presentation (an event comprising conferences, video screenings, concerts and an exhibition opening)
•    February 2011: Catalog + Double CD + DVD release;
•    From March 2011 onwards: Itinerant exhibition and educational activities in villages along the course of the Paiva River.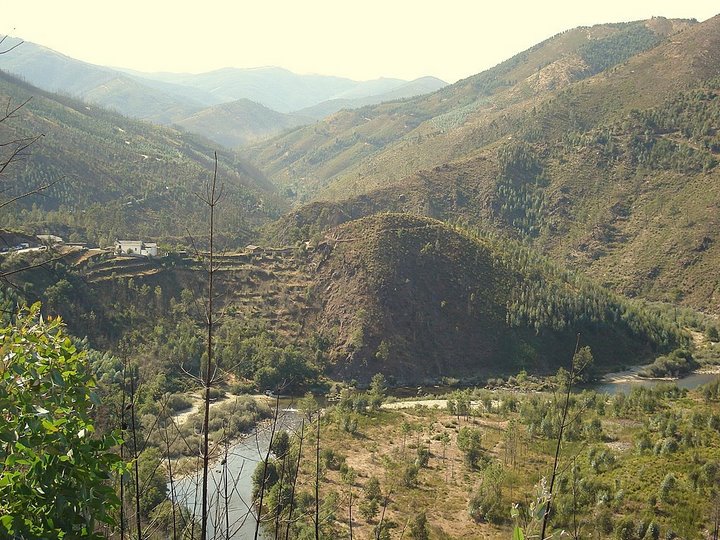 (The Paiva River in Janarde: photo by SOS Rio Paiva)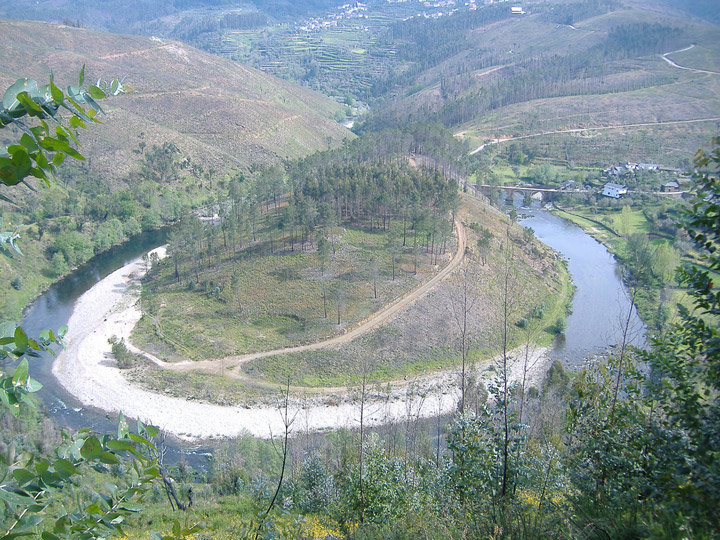 (The Paiva River in Nodar: photo by Binaural)
Artists in Residency
Events in Vila Nova de Paiva
Events in Arouca