Lafões Cult Lab is a space dedicated to site-specific sound/media arts residencies and social research, developed in interaction with communities and rural landscapes of the Portuguese Lafões region, formed by the municipalities of São Pedro do Sul, Vouzela and Oliveira de Frades. Binaural/Nodar's artist residency programme celebrated in 2016 its 10th anniversary of continuous activity, having been hosted so far more than 150 artists and researchers from around the world. The organization encourages the resident artists to establish interactions with the place, its inhabitants, geographic space, identity and memory.
Since it began its activities in rural context that Binaural/Nodar has been extending its geographical area of intervention. The years between 2006 and 2009 were the years of deepening the artistic research on a limited group of mountain villages (in the municipality of São Pedro do Sul): Nodar and Sequeiros, where the family roots of board members Rui and Luis Costa are located, also Rompecilha, Macieira, Covas do Monte, Covas do Rio, Candal, Manhouce, etc. In 2010, Binaural / Nodar spent a whole year developing artistic research along a major river in the region, River Paiva, which meant an extension to other municipalities such as Castro Daire and Vila Nova de Paiva.
From 2015 on, Binaural/Nodar established collaboration agreements with four municipalities, São Pedro do Sul, Vouzela, Oliveira de Frades and Viseu, where it has been developing multimedia ethnographic research and sound/media arts' production, and is expected from 2016 to work gradually in order to cover all 14 municipalities of Viseu Dão Lafões Region.
Disciplines and media:
Sound art, improvised music, electroacoustic composition, sound sculptures, intermedia installation, etc.
Expenses paid by artists:
Artists will only have to pay their trip to/from the region. Nevertheless, the organization always tries to get some aid from the local embassies or local delegations of cultural institutes of the artists' countries. We also encourage artists to contact the relevant cultural entities at their countries to get financial support for their trips. Artists will be provided with housing, audio and video equipment, food and a social space for the artists-in-residence to network with other artists and local publics. Other trips to local spots of interest or to the performance spaces are also supported by the organization.
Presentation of artists' work:
It is mandatory for all artists to share the result of their residency / international collaboration through an open rehearsal, studio performance, talk or exhibition at the Center for local audiences. Additional performances / exhibitions can be arranged in the neighbour cities of Viseu, S. Pedro do Sul or Vouzela and also Lisbon and Oporto. The artists should inform the organization in advance in order to prepare these events.
Applications:
Every year Binaural/Nodar announces an open call for applications and only from that moment it is possible to send proposals for residencies (likely period for the open call announcement: between March and June each year, for artistic projects to be developed the following year) and the deadline for the submission of applications is set to happen between 30 September and 31 October. Also, the artist residences have a defined subject to be announced every year, therefore we advise artists not to send projects that do not fit with that subject.
The selection committee, comprised by the board of directors at Binaural/Nodar, will announce the results of the selected projects no later than three months after the deadline for applications.
Additional information and queries:
Luís Costa
luis.costa@binauralmedia.org

Open Call for Artist Residencies in 2018 and 2019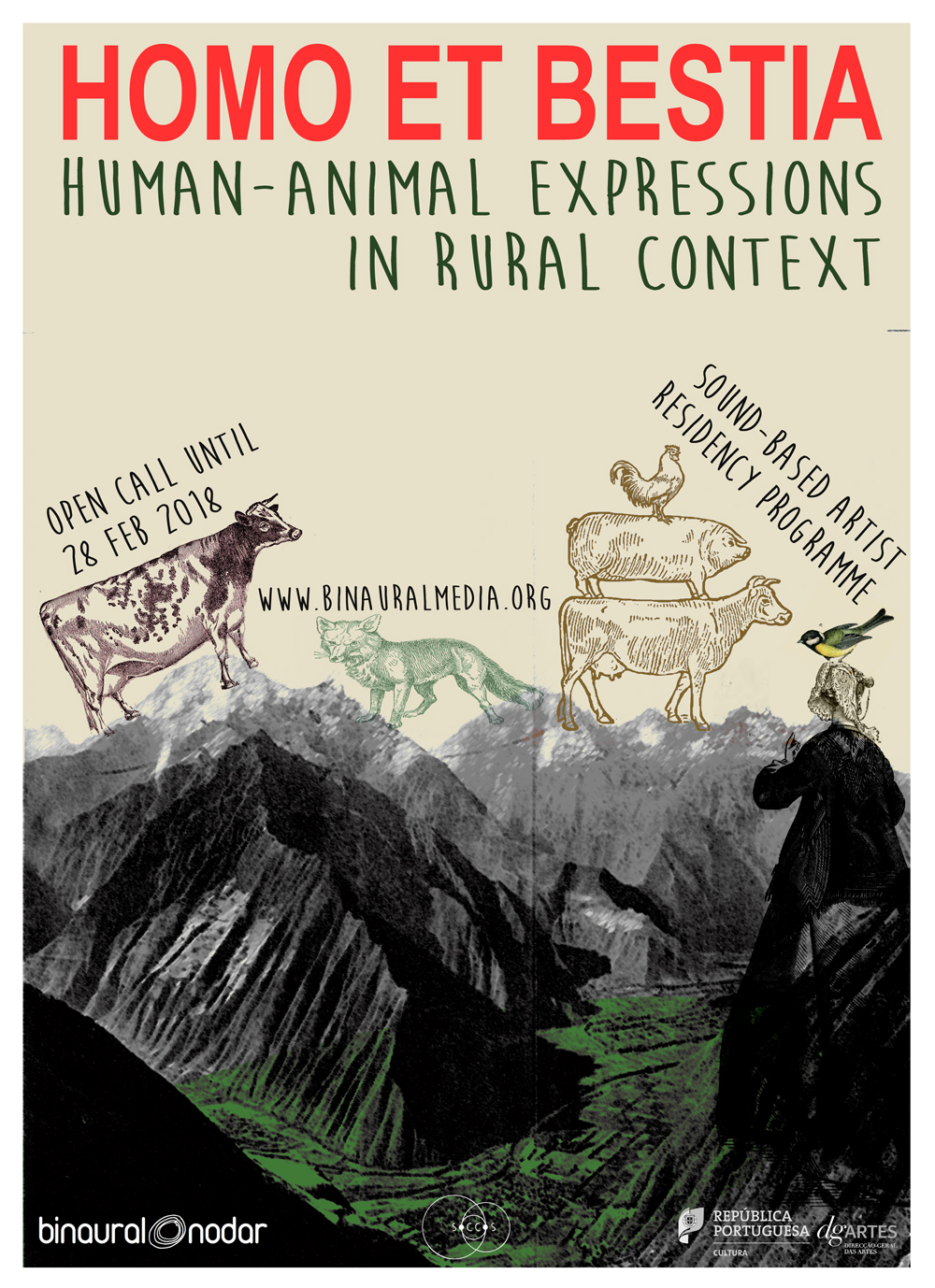 HOMO ET BESTIA: HUMAN-ANIMAL EXPRESSIONS IN RURAL CONTEXT
Binaural/Nodar artist residency programme in sound-based arts for 2018 and 2019
Municipalities of São Pedro do Sul, Vouzela and Oliveira de Frades (Portugal)
An organization of Binaural/Nodar (Viseu Dão Lafões, Portugal)
In partnership with SOCCOS -Sound of Culture, Culture of Sound – A sound-based artist residency network
[Call for creative projects open until 28 February 2018]
http://www.binauralmedia.org
http://www.soccos.eu
1. Creative Proposal
Plato, in his picture of the golden age under Saturn, reckons, among the chief advantages that a man then had, his communication with beasts, of whom, inquiring and informing himself, he knew the true qualities and differences of them all, by which he acquired a very perfect intelligence and prudence, and led his life more happily than we could do.
In "An Apology of Raymond Sebond", in "Essays" by Michel de Montaigne, translated by William Hazlitt (1865)
HOMO ET BESTIA, Human-Animal Expressions in Rural Context is the subject of Binaural/Nodar's artist residency programme for 2018 and it is focused on the creative potential of dealing with biological, ecological, historical, literary, ethological, anthropological and audio/visual documentation about human-animal relationships in the Portuguese rural region of Lafões in order to engage in a series of artistic outcomes focused on soundscape, sound art, sound poetry, radio art, site-specific performances/installations, audio/visual documentary and generally cross-media arts.
The programme proposal stems from the ancestral importance of animals in rural regions, one that is continuously evolving and discussed, particularly through the incorporation of recent trends related to animal rights, to the tension between organic farming vs industrial farming and generally to the slow decline of "pure" rural contexts, where many uses are being replaced or abandoned, therefore generating a vast series of recollections and contrasts with contemporary approaches towards animals.
The programme proposal can also address forgotten documents, namely from regional and personal archives that can have both a scientific and artistic proposes (examples: breeding manuals, veterinary registries, documents from animal trading, old photos from man-animal interactions, diaries, etc.)
Possible subjects to be addressed in the residency proposals
– Animals in rural myths, storytelling and sacred ceremonies.
– animals in rural/regional literature
– Animal mobility though transhumance, commerce, transport, hunting and re-introduction of species
– The instrumentalisation of animals for farming purposes, namely though use of mechanical/artisanal devices (carts, ploughs, etc.)
– Past and present tensions between animals as pets, as food and as work force.
– The literary/sonic potential in the use of animal vocalizations
– Choreographic/spatial aspects of animal behavior
-Ethical questioning of ancestral and modern ways of dealing with animals
The residencies will take place in several periods between September 2018 and October 2019
2. Application
a) In the selection process the following types of artistic works will be privileged: Electroacoustic / vocal / sound art compositions; Permanent or ephemeral installations; Radio works; Free improvisation and performance works.
b) Applications are accepted only if sent by February 28th, 2018, exclusively sent by email to info@binauralmedia.org with subject "Artist Residency Application"
c) The application (a pdf, doc, zip file or a link to Dropbox, Google Drive etc.) should include the following information:
Art project proposal to be developed (indicating both work methodology and planned chronology);
Brief artistic biography (max two paragraphs) and Curriculum Vitae;
Web links to previous works from the artist(s);
Material and technical needs of the project;
Proposed time period for the artist residency.
d) For additional inquiries, please write to Luís Costa (luis.costa@binauralmedia.org)
e) For additional information on the conditions of the residency, please refer to Binaural/Nodar's website: http://binauralmedia.org/news/en/artist-residencies
3. About Binaural/Nodar
Binaural – Associação Cultural de Nodar (BINAURAL/NODAR) is a Portuguese non-profit Cultural Organization founded in 2004 with the aim of promoting the exploration and research in sound and media cultures, focusing on the crossing of media and languages and on the articulation between creative production, academic research in social and environmental sciences and the surrounding rural context of Gralheira and Caramulo mountain ranges (Viseu Dão Lafões Region, Portugal), where the organization develops most of its activities.
BINAURAL/NODAR holds creation, production, promotion, research, documentation and teaching activities with the objective of establishing itself as a platform for experimentation and sharing of theoretical and methodological thought in the fields of technology, artistic practice and sound/visual anthropological documentation of rural areas.
BINAURAL/NODAR is managed by an international team of social researchers, cultural managers, artists and curators (with 12 years of activity). The board of directors is comprised of three persons with deep roots and/or living for many years in the area.
Underlying to the activities of the BINAURAL/NODAR is the concern of establishing connections between sound / visual arts and the anthropological and geographical environment, by supporting documentation projects, artist residencies and public events directed to diversified audiences and that deal with its capacity for generating meanings and building identity and memory.
Since March 2006, over 150 international sound and media artists and social scientists developed projects in the area in close connection with the region's communities. Issues such as collective memory, identity, gender and age, life and death, geography, topography, music, sound heritage, landscape, vegetation, water and fire, consumption and leisure dynamics, myths and traditions, crafts, agriculture and shepherding, were used as a thematic background for many of the works produced there.
Throughout the year, the organization programs various scientific and creative residency modules in order to stimulate a collaborative environment between artists and researchers from different fields and geographic origins. During the course of the residencies several parallel activities are organized, such as conferences, lectures and educational activities (namely youth-­oriented). At the end of each residency module there is a public presentation organized in the village, in which the different projects are presented and discussed by the authors and the organization.
Lafões Cult Lab is the technological, logistical and curatorial platform by which the development of projects is carried out, by means of audiovisual technologies and languages and permanent dialogue with the various elements that shape the region. Many of the projects held at Lafões Cult Lab are of an interdisciplinary nature, i.e. crossing different artistic, scientific and traditional practices, often cancelling its borders in order to seek for a hybrid sense that can amplify their expressive and functional possibilities.