Harold Schellinx: Le Zida Ne Passera Pas Par Moi…
Play Now
(mp3 – 128 Kbps)
I'm really not much of a soccer fan. But I did follow (on television), a large number of the matches of the 2006 World Cup tournament. Most of them actually I found pretty boring, and I would've gladly missed them. But I guess watching a soccer match is a bit like living a life: even when it didn't happen yet, it still could any moment now ; and as long as the game's not over, there's nothing lost – ("Waar leven is, is hoop") – … So on many of the competition's evenings I started and continued watching until the referee's final whistle sounded … fantasizing about being out there zoom recording ….
The Dutch national team was sent home in the round of 16, in a lost match against Portugal, which was moderate fun to watch ; not so much for the way the ball was kicked around, but rather for the way anything that moved got kicked, with 4 players dismissed and the game ending nine against nine .
The French team though, against all odds, made it to the final, where they stood up against the Italian team on Sunday July 9th, in Berlin. It was E. Rébus who suggested we'd treat that match in the form of a placard recording, re-mixing live the radio and television reportages. A fine idea, I thought, and a fun way to spend the final's evening. So we set up the "Match Vide" 'placard', last minute, as part of the ninth international headphone festival, small, intimate and lo-profile, at my Vincennes home – in the best of placard traditions …
Thanks to the FIFA, to de Waag for use of their icecast streaming server, all performing participants – Fred Bias, Jean-Marc Montarou [le Rhinoseros], Thomas Sundholm, FlexRex, E. Rébus, HarS – and the fine handful of attentive listeners for making this into a memorable event …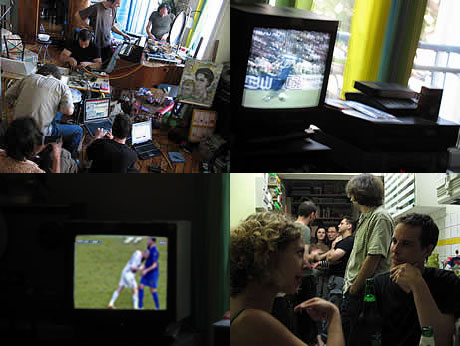 Artist's Biography:
Harold Schellinx (Maastricht, the Netherlands) is an artist, writer, improvisor and creator of unusual and original musics. As a member of The Young Lions and several other post-punk bands in the Amsterdam of the late 1970s and early 1980s, he was among the initiating forces of the Dutch 'Ultra' movement (the purely Dutch version of what has become known as 'post-punk experimental pop music'). He was co-founder, editor and London correspondent of the Dutch modern music magazine 'Vinyl', while pursuing (in Holland, Belgium and the UK) a range of widely acclaimed musical projects. These include "Commuters" – a collaboration with German singer Dagmar Krause (Slapp Happy/Henry? Cow), "Signs & Symptoms" – with Peter Mertens, and a series of 'pop fictions' (Bogdan Wlosik, Agonie Ajournée …) – written and produced together with Ronald Heiloo.