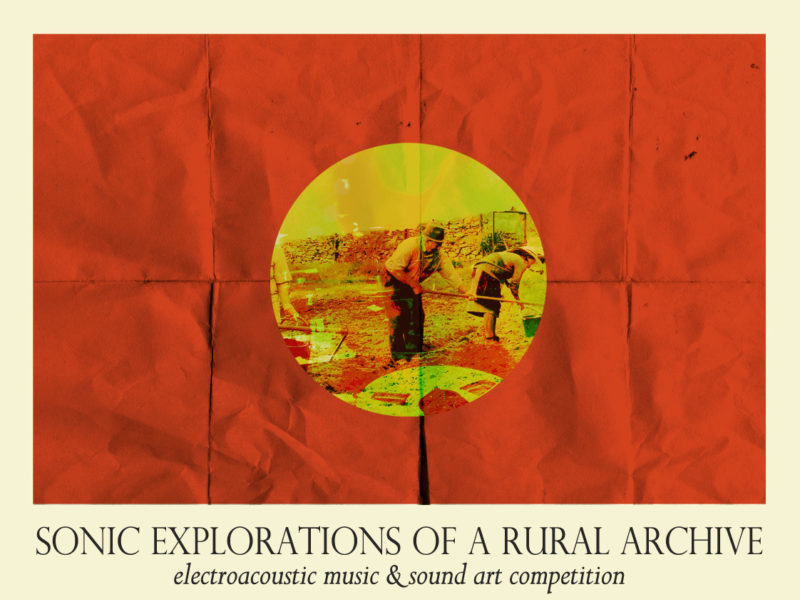 VISEU RURAL 2.0 – SONIC EXPLORATIONS OF A RURAL ARCHIVE
Electroacoustic Music and Sound Art International Competition
Co-Organized by Binaural/Nodar and Município de Viseu (Portugal)
Announcement of awarded sound pieces
This international competition was developed in the context of #SOCCOS sound art network (co-funded by Creative Europe programme and including Binaural/Nodar, Q-O2, Hai Art, @A-I-R Lab, CTM Festival) and invited electroacoustic musicians/composers and sound artists from around the world to produce sound works based on the Viseu Rural 2.0 archive, one that is being collected and archived by Binaural/Nodar with recordings of rural contexts from the Municipality of Viseu (Viseu Dão Lafões, Portugal), thus creating a sense of exploration and diffusion way beyond the borders of the specific locations of the recordings.
Artists from around the world freely selected sound files from the archive in order to create sound works inspired by the rural context of Viseu, which were be submitted until September 30th, 2016 and were later evaluated by the selection panel, composed by the board of directors of Binaural/Nodar and associated experts.
From over 100 received works, the panel officially selected 39 sound pieces and that were all considered as having high artistic quality.
The following were the awarded prizes:
1st Prize: Jeff Morris (Sobre a Electrodinâmica dos Corpos de Trabalho)
2nd Prize: Helene Hedsund (Pastoral)
3rd Prize: Nikos Stavropoulos (Portrait V)
Jury Awards:
Boštjan Perovšek (Rails Past the Birds)
Diego Behncke ([-inf] -90.30900 -90.30900 [-inf] -80.76657 -84.28840)
Elsa Justel (Estampes de Viseu)
Fabián Avila Elizalde (Quebranto)
Jonathan Higgins (Disinter)
Luigi Morleo (On Western Terror 5)
NUM (I Am Walking In The Woods Of Magic)
Honorable Mentions:
Adam Hulbert (Studies in Xbduction)
Bella (Ementa das Almas)
Deovides A. Reyes III (Superposition Phenomenon)
Fabrizio Gaggini (A Night on the Train)
John Tenney (Over Viseu)
Massimo Avantaggiato (Azul)
Sturqen (Fabricação)
Moody Alien (A Day in the Fields)
Vedran Mehinovic (Dimensions in Viseu)
Virgílio Oliviera (Terra e Fé)
Official Selection:
Alessandro di Maio (Transversal Third)
Arturo Hernández Viseu (Crepúscular)
Chadas Ustuntas & Claudia Rangel (Reminiscência)
Cláudio Pina (Viseonarium)
Concha García (Viseu Mayrit: Weaving with Water)
David Hirst (Imaginação de Viseu)
Davide Wang (Lost in a Nowhere Forest)
Eduardo Abrantes (Os Três Inimigos da Alma)
Fernando Ramalho (A Paz Possível é não ter Nenhuma)
Isaac Baggaley (Distance)
Julian Scordato (Study for a Landscape #2)
Kramer Elwell (Return to the Earth)
Luis Carlos Martinez Wilde (Et Nunc, et Semper)
Luís Fernandes (Imbalance)
Luz Elez-Villarroel Famos (Lugares Comunes)
Milena Kipfmüller & Klaus Janek (E Depois)
Renzo Filinich Orozco (Toada em Bordão)
Sara Pinheiro (De Lés a Lés)
Symeon Yovev (Rua da Paz)