"Aldeias Sonoras"
A documentary by Luís Costa (22 minutes / DV)
22 June 2010, 15h30
Cycle "dOHcs" – Ciclo de Documentários de Autor
Casa da Cultura César de Oliveira, Oliveira do Hospital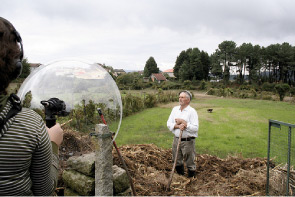 As part of dOHcs – Ciclo de Documentários de Autor, organized by the Oliveira do Hospital Municipal Council, the documentary that Luís Costa directed in 2009 from the field sessions of the educational project "Aldeias Sonoras" will be screened. This project consists on the sound recording and mapping of Portuguese rural regions by high school students from those regions. "Aldeias Sonoras" began in 2009 in the S. Pedro do Sul Municipality and is in 2010 in its second phase, involving the Municipalities traversed by the Paiva River (Vila Nova de Paiva, Castro Daire and Arouca), integrated in the "Paivascapes #1" project.
To read the Oliveira do Hospital cultural agenda for the month of June, click here.