Workshop "Tuning your Ears and Composing the World"
Viriato Theatre, Viseu (PT)
Dates: 7 – 11 June 2010
(monday, tuesday, wednesday and friday: 7.30 p.m. – 10h30 p.m.; thursday: 5.00 p.m. – 8.00 p.m.)
Coordinator: Rui Costa
Price: 20 Euros per attendee
Capacity: 12 participants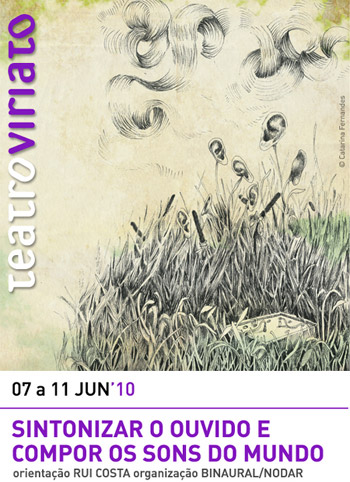 Rui Costa, sound artist and co-artistic director of Binaural/Nodar, will coordinate an workshop entitled "Tuning your Ears and Composing the World", which is part of Binaural/Nodar's workshop program on exploratory sound.
In our hyper-visual modern world, where we are bombarded with constant visual media… television, advertisements, etc… we have forgotten how to listen. Students will be guided to "re-tune" their ears to actively pay attention to the rich aural world around them, to listen actively and imaginatively, and not just passively hear. They will then use their ears, creativity, and new set of tools to create an audio composition using the world around them as instrument.
The laboratory offers an introduction to:
Methods of directing the ear towards detailed sonic perception
The use of sound to examine the qualities of the surrounding space and a person's perspective of it
Methods and tools for recording the sound environments
Methods for organizing and creating a sound library
An historical perspective on sound art and the use of field recordings in music
Basics of sound physics and music composition theory
Practical approaches to composing music with field recordings
Participants will develop a collaborative sound project based on the collection of sounds in public spaces of Viseu's historical centre.
Additional information:
http://www.binauralmedia.org/news/en/people/associated-artists/rui-costa
http://www.binauralmedia.org/news/en/workshops/field-recordings
Artistic Director: Rui Costa
Technical Assistance and Production Coordination: Luís Costa
Production Assistant: Carina Martins