Football Sound Narratives
Social Specificities of a Universal Game
www.binauralmedia.org
Binaural/Nodar (PT) announces an Open Call for Submissions to an Online Edition of Sound Works
Deadline July 8th, 2010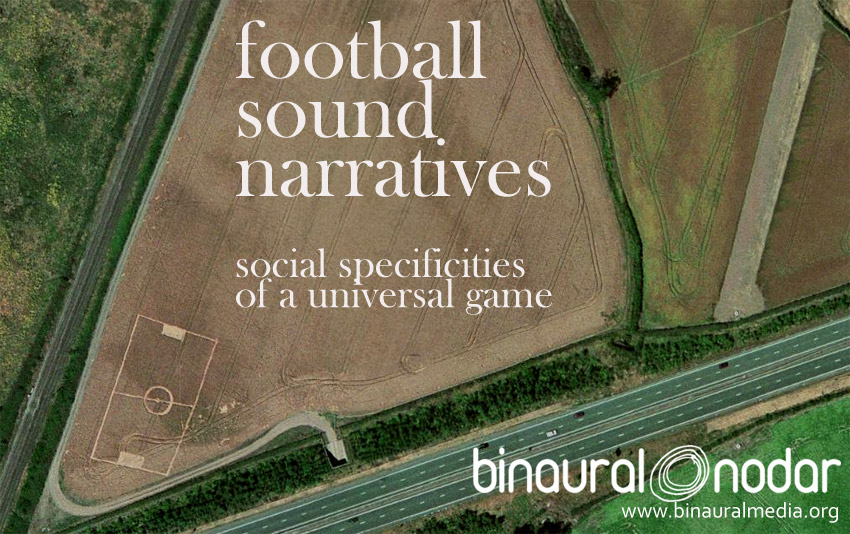 Football is commonly referred as an interesting field for social analysis of some functional aspects of contemporary societies. Issues like the production of winners and losers, the dynamics of organized supporters' activities and rituals, the specificities of professional and amateur football leagues, the economics and politics of team management, sponsorship and TV deals, the players' bodily performances and their impact in the creation of role models for youths, the formation and sharing of football stories and myths, the class and ethnical divisions amongst participants, or the exalted nationalism in an era of worldwide competitions, have been the source of recent anthropological / social research.
Many of these issues have significant aural characteristics that can be made evident through the use of field recording and/or sound composition techniques.
Within the context of the upcoming FIFA World Cup 2010 in South Africa, Binaural/Nodar announces an open call for a web-based audio edition, through which field recordists, sound artists and/or experimental composers are invited to submit new or previously edited/composed sound works that deal with the role of football (a.k.a. soccer) in the formation of political and socio-cultural identities.
At the close of the open call period, 11 (the number of players in a team) works with a maximum run time of 10'00'' each will be selected and will be presented through a web-based edition to be online after July 15th, 2010.
The selection of the works will be curated by Binaural/Nodar's associated artists Rui Costa and Duncan Whitley, and will be based on the quality of the submitted work and supporting texts, and the work's adherence to the proposed theme.
Links to the curators' biographies:
http://www.binauralmedia.org/news/en/people/associated-artists/rui-costa
http://www.binauralmedia.org/news/en/people/associated-artists/duncan-whitley
Please provide:
1. Link to your Audio work: Audio files are to be submitted as 16-bit .wav or .aiff files with a maximum run time of 10'00". MP3's or other compressed files will not be accepted. Provide a link to the URL of the audio file on your personal webspace; or use a file transfer service (Send Space, Send This File, Sound Cloud, etc.).
2. One text file including the artist's biography and website, a statement about the audio work (summary of diary entries, dates/locations/geo coordinates of the source sounds, working process, description of techniques, a short essay on the social/anthropologic aspects of the piece etc.), identity of and contact information for the author.
3. Optionally: A link to a set of photos describing the recorded locations, the working process, etc.
For submitting the sound works and for questions on this open call please send an email to Luis Costa (luis-binauralmedia.org).