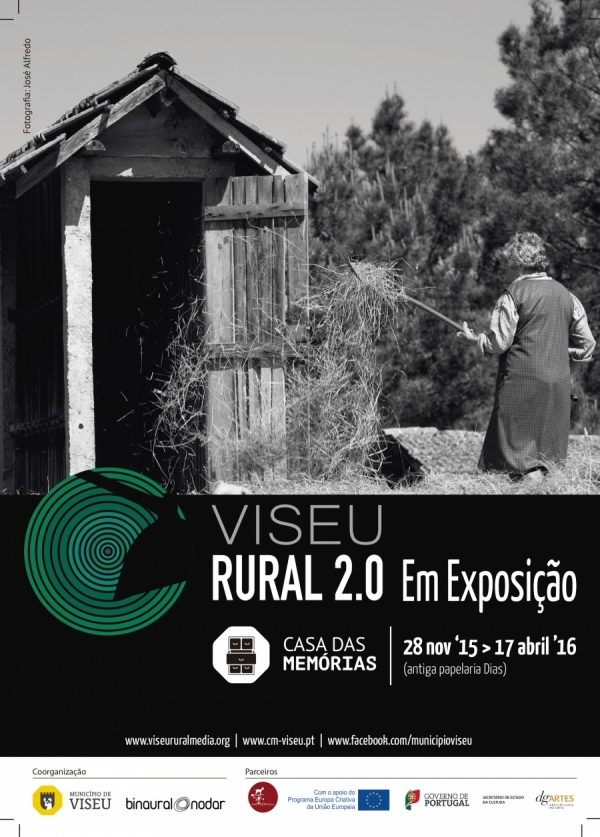 Viseu Rural 2.0
Documenting and [Re]expressing Rural Heritage
Collective Exhibition
Casa das Memórias, Viseu (Portugal)
28 November 2015 – 17 April 2016
with:
Luís Costa
David Prior
Frances Crow
Antye Greie (AGF)
Sérgio Bonilha
Luciana Ohira
Jason Kahn
Rui Costa
Maile Colbert
Exhibition brochure:
Viseu Rural 2.0 is an integrated project of heritage documentation, sound / media creation and cultural diffusion, which first edition took place in 2015 in the rural areas of the municipality of Viseu. The project is part of the Tramontana European network of memory archives from rural areas, of which Binaural/Nodar is currently main partner and the municipality of Viseu is associated partner.
Viseu Rural 2.0 was conceived from a clear assumption: the need to give expression and density to a rural arc involving the city of Viseu and which memory and structure are also part of the history of the city itself. Somehow, the recent vitality of the city of Viseu has deepened its urban, innovative and future-oriented dimensions, so it is useful to establish cultural counterpoints to put also in evidence the rural origin of the territory, as well as its recent transformation processes.
Viseu Rural 2.0 involved ethnographic audiovisual collections in many of its rural villages which covered a wide range of subjects such as landscape morphology, agricultural cycles, cultivation methods, the sacred dimension of the built and natural heritage, the role of commerce, social and political change, etc.
The collected material was later given to various European and American guest artists, who developed a series of contemporary art pieces in
the fields of sound / media arts, which end result was reflected in a retrospective exhibition at Casa das Memórias.
Artistic director
Luís Costa
Audiovisual research team
Luís Costa, Manuela Barile, Susana Rocha, Nely Ferreira
Audiovisual editing
Luís Costa, Manuela Barile, Nely Ferreira
Interview transcriptions
Susana Rocha
Artistic team
Luís Costa, David Prior, Frances Crow, Antye Greie, Sérgio Bonilha, Luciana Ohira, Jason Kahn, Rui Costa and Maile Colbert
Graphic design
Luís Costa
Cover photo
José Alfredo
Organization
Binaural/Nodar and Municipality of Viseu
Funding
Municipality of Viseu, Government of Portugal – General Directorate for the Arts Creative Europe Programme of the European Commission