Workshop
Getting the Boots Dirty, Touching the Real
Problematization and Desmystification of the Artistic Field Work

Coordination: Luís Costa (Binaural/Nodar)
21 and 22 February 2013, 2pm to 5pm
Location: DECA Auditorium, University of Aveiro
Co-production: Masters Program in Contemporary Artistic Creation | Department of Communication and Arts| University of Aveiro
The is nowadays a growing tendency for contemporary artists to create artworks that connect with specific aspects of the real: landscapes, communities, etc. and it seems that the more "peripheral" (culturally, socially, economically, geographically) the community is, the higher attraction it exerts on young artists who seek original and socially engaged projects, which can lead to a cynical or exploitative way of interacting with people who aren't aware of the ultimate implications of the artist's wishes. The artist, by placing him/herself in interaction with a real context to do creative field work carries with him/herself a "beam of communities" and, therefore, arrives at a new territory with his/her charge of social representations: of origin, practice, ideology, values, acceptance of difference, etc.
Thus, there is the need to understand the possible motivations, singularities, tensions of those improbable encounters between people who often belong to completely opposite worlds. This workshop, directed by the director of Binaural/Nodar, Luís Costa, will constitute a reflexive, theoretical and problematizing introduction to issues related to the artist's condition as a researcher within the real, using methodologies that are similar to those used in social sciences, be it by the choice of themes and social groups, the organization of the field work, the work documentation and the ways of interaction with the communities or the strategies used to resolve / modulate the conflicts and tensions with the communities.
Luís Costa (1968) is presently Binaural/Nodar's president and educational coordinator. He graduated in Economics and is a writer of essays, scientific papers and articles and a regular speaker in conferences and lectures on sound and media art, creativity in the rural space and territorial development. Since 2006 he has been developing sound and video documentation projects in the region of Gralheira and Montemuro mountain ranges. He directed "Where is the Source of my Paiva" a sound/video experimental documentary premiered in 2011 during the Paivascapes #1 Festival. He is the author and coordinator of the "Aldeias Sonoras" ("Sound Villages") project, an educational program that consists in the sound mapping of Portuguese rural areas with the participation of primary and secondary school students. In 2011 he published on Edições Nodar a field recordings CD along with Jez riley French and Joana Silva, entitled "Sonata for Clarinet & Nodar", co-edited the retrospective catalogue and double CD "Three Years in Nodar: Context-Specific Art Practices in Rural Portugal" and in 2012 he published, also on Edições Nodar, "Living an Ancient World: Texts on Art and Territory (2012-2008)".
The Masters Program in Contemporary Artistic Creation of the University of Aveiro, presently coordinated by Prof. Pedro Bessa, extends for 4 semesters and aims at giving the students a practical and project-based experience that enhances their level of autonomy and consciousness of the creative act. The program works as an intersection platform between the contemporary arts and the new technologies, and is based on a transdisciplinary approach that seeks to add knowledge and reflection within the visual arts.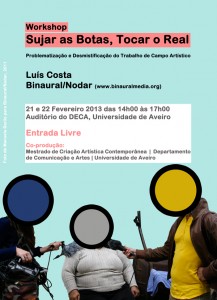 Photo by Manuela Barile for Binaural/Nodar, Julho 2011.
Interaction with an inhabitant of Nodar during Gäel Segalen e Joachim Montessuis' artistic residency for Magaio Voicescapes Festival.