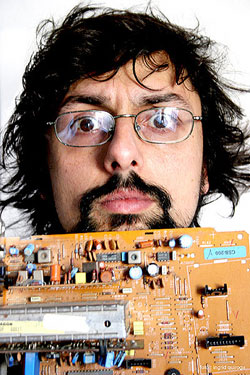 "Hardware Hacking: The Ear Doesn't Have Eyelids"
A workshop directed by Pablo Rega (ES)
Estúdio Performas, Aveiro (PT)
March, 15th – 17th 2010 (5.30 p.m.- 10.30 p.m.)
Pablo Rega's concert: March, 18th 2010 (10 p.m.)
For inscription in the workshop:
http://www.performas.blogspot.com
This is the first activity of the cycle "Binaural: The Archaic Sound", a set of workshops, concerts and installations proposed to Estúdio Performas for 2010.
A sound experimentation workshop based on building homemade sound devices. Motors, photo-resistances, microphones, oscillators and sound recycling in general will serve to spend a good time around cheap and innocent electronic scrap. The workshop is intended for any person interested in experimental sound practice. No previous experience is needed.
Pablo Rega (La Coruña, Spain 1971) has been focusing his activity in experimental and improvised music for about 15 years. He lives in Barcelona and works in various improvised music projects like "MUT" (extreme noise quintet), "Neumática" (electroacustic music) with Alfredo Costa Monteiro (with whom he created "Alludes" published by Creative Sources in 2006 and "Limiar" on Desetxo net label), "CAJA SORDA" (mini concerts for headsets), "Z1C0? (free-noise trio) with Tom Chant and Lar Lejido, "PROTOM" with Patxi Valera and Pablo Sax. He also collaborated with the Catalonian guitarist and electronic musician Ferran Fages and with numerous Spanish and international musicians.
He currently directs the improvisation orchestra O.M.E.G.A. based in Santiago de Compostela and formed by 20 galicians musicians and BIB (Improvisors Band of Barcelona), formed by 14 musicians. He also composed for O.M.E.G.A's string quartet, creating pieces for quartet and quadrofonia
He also works in the construction of acoustic and electronic instruments, in his personal electroacustic projects focused on the construction and use of electronic sound devices and in pieces for electronics and computer, running various laboratories in these areas.