Luis Costa present at the cycle of debates of ARTE LISBOA 2011
Cycle of Debates of ARTE LISBOA 2011
Friday, November 25th | 7.00pm
Debate "I want to be an artist. And now what? Will I have to emigrate?"
FIL, Parque das Nações, Lisbon
With the participation of:
Luís Costa | Binaural / Nodar
Rui Mourão | Artist
Filipa Valladares | Stet – Livros e Fotografias
Manuel Botelho | Artist. Professor at Faculty of Fine Arts of the University of Lisbon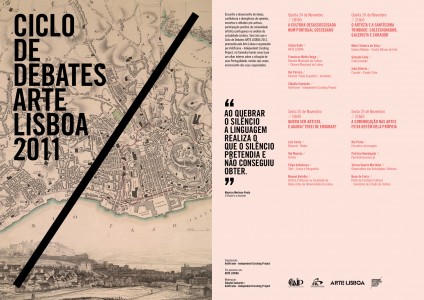 Luís Costa, coordinator of Binaural/Nodar will be present at the Cycle of Debates of the Arte Lisboa 2011 – Contemporary Art Fair. He will address the role of artist residencies in the support to the artistic creation, the lack of these kind of platforms in Portugal and in what way they can be essential to the young artists.
Encounters and 'misencounters' of ideas, confluence and divergence of opinions, incentive and proactive attitudes, positive participation of the Portuguese artistic community in the analysis of the current creative situation are the themes that the Cycle of Debates of ARTE LISBOA 2011, promoted by AIP and organized by AntiFrame – Independent Curating Project, will address starting form an inner look on the Portuguese condition, very often unconscious about its own capacities.
For more information, click here