"G.D. Parada"
Duncan Whitley (London): text based projection with stereo audio
Friday 18th – Saturday 26th November 2011
Venue: LabCulture MediaLab
1 Kings Square
Bridport
Dorset
DT6 3QE
England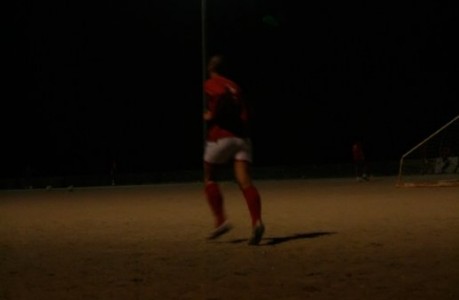 "G.D. Parada", a work by Duncan Whitley and produced by Binaural/Nodar is part of Countertext, a collection of transmedia installations and events to complement the Bridport Open Book Festival including sculpture, video, sound and performance, curated by David Rogers and Nigel Slight.
"G.D. Parada" draws on the subject of an amateur football team, 'Grupo Desportivo de Parada', in rural Portugal. With delicately-crafted sound recordings and transcribed interviews as the driving, rhythmic body of the work, the artist places sound into new relationships with text and video images. Whitley here explores spillages between the contemporary fields of art and ethnography: with a particular focus on the rich, sensory world of sound.
An audio track taken from the "G.D. Parada" project is included in the double CD "Location-Specific Sound 2007-2009" published by Edições Nodar as part of the "Three Years in Nodar" retrospective catalogue.
More information on Duncan Whitley, here.