"Manuela Barile and the Sense of Place"
Retrospective Exhibition
Estúdio Performas (Aveiro, Portugal)
9 – 12 November, 2011
Guided tour by the artist on November 9 at 21:00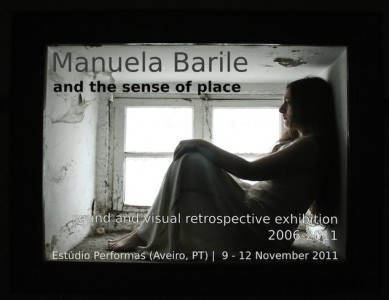 "Manuela Barile and Sense of Place" is a retrospective exhibition of multimedia works by Manuela Barile, curated by Binaural / Nodar, which reconstructs the creative trajectory of this Italian artist since she came to Portugal, in 2006, until 2011.
The artistic work of Manuela Barile has been based on projects developed in the specific context, taking into account aspects of the territory, tradition, memory, symbols, rituals and spiritual paths deposited on the ground as indelible marks.
The art of Manuela Barile is an ongoing research about reality, about the personal experience of being in the world. Using as a starting point her own existence and that of ordinary people, the work of the artist is able to transform the individual experience in a place of collective projection.
Since 2006, the artist lives and works in the rural area of Gralheira mountain range (S. Pedro do Sul, Portugal) where she develops projects in close contact with local communities that combine sound and visual anthropology, performance art, vocal performance, video art , touching on issues such as death, happiness, poverty and emigration.
As a vocal performer Manuela Barile embarked in 2001 on a personal journey in the area of ??vocal experimentation applied to free improvisation. The artist uses "extended vocal techniques" focused on the relationship between voice, body sounds and acoustic properties of the places, through their sounds to give voice to distant echoes difficult to express in words.
Manuela Barile is currently artistic director of Binaural / Nodar, a Portuguese cultural organization dedicated to promoting sound intermedia arts and in rural context.
Works to exhibit:
"Cá" (anthropological narrative video, 2009)
"Pesa # ??1, # 2, # 3" (three-channel video installation, 2009)
"Birdsoundcage" (sound installation and video performance, 2009)
"Moroloja" (anthropological narrative video, 2008)
"Oikos" (video performance, 2010)
"Rheîa Zóontes" (anthropological narrative video, 2011)
"Eudaimonia" (video performance, 2011)
"Panta Rhei the potamos" (sound installation, 2011)
"The Bride" (photography, 2011)
"Forza Bari! Alè! Alè! "and other vocal and sound actions 2006 – 2011
Additional Information: http://www.manuelabarile.com