"Moroloja", a audio/visual research about the symbolic and ritual experience of mourning, directed by Manuela Barile, co-artistic director of Binaural/Nodar was selected Optica – International Video Art Festival to happen at Casa Encendida in Madrid (ES) between September 16th and September 18th, 2011. The video will be screened in the Friday, Sep, 16th session.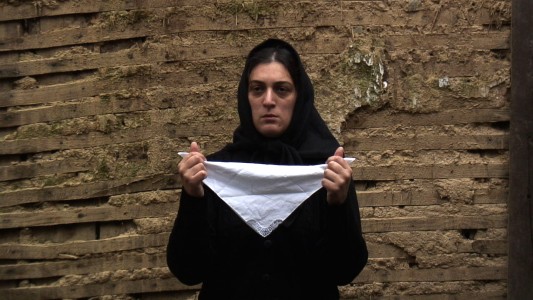 About Moroloja:
Moroloja is a video work inspired by Homer's hymn to Demeter that describes the pain of the Goddess after she knew that Persephone's daughter was abducted by Hades, the God of the underworld. It shows a young woman dressed in black clothes. She is alone, seated on a chair inside an abandoned house. She is Demeter, the Goddess of grain and fertility. Immersed in a complete solitude, she is suffering the sudden loss of her daughter. After the immobility, a ritual crying begin, one that evokes the mourning wails of Salento (the southern part of Puglia, Italy). In the pain, hearthbreaking as a mourning, she becomes human and vulnerable.
Moroloja is a reflection about the experience of pain. The experience of pain is experience of loss, of mourning. It is anticipation of the death. Those affected by pain enter into a process of estrangement, moving away from the world because one can never communicate to the others own suffering until the end. Pain is intimate recollection, suffering binds us, holds us in the limit, it exposes our existence to its frailty. Solitude and suffering pervade each other. However, the pain of the individual cannot be separated from the pain of all, the pain of the world. Pain and existence is the only thing. The individual pain, expressed in this video by a mother, a "Demeter-prefica", therefore refers to a cosmology of pain, to a sense of universal suffering.
HD, 8:05? (2008)
Directed by Manuel Barile
Camera: Luis Costa
Produced by Binaural/Nodar