Binaural in a Collaboration with Anamnesis 09
Presents:
THREE AUDIOVISUAL TALKS ON BINAURAL'S SOUND PROJECTS
Saturday, 19 Setember 09 – 10.00 a.m.
Casa de Caçarelhos: Caçarelhos, Vimioso (PT)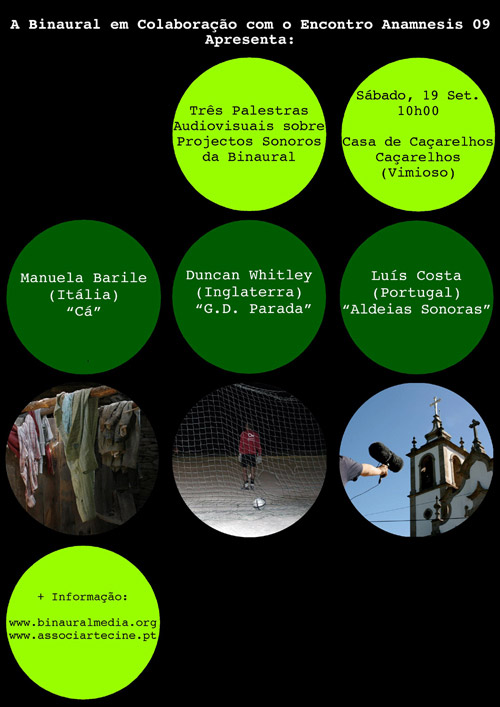 Manuela Barile (Italy/Portugal)
"Cá"
"Cá" is a site-specifc project that deals with Manuela Barile's travels throughout the abandoned villages of the area where she presently lives: the Gralheira mountains, an isolated and rural area located in the center of Portugal. This project was born from the urge to reflect about the concept of abandon and the sense of ruins.  Abandoned villages are aside places that modern societies tend to ignore or want to forget. They are considered to be dead and useless places, a sign of failure. They represent a past that is hopelessly forgotten, a break in the memory flow. However, abandoned villages have their own particular life, even if they aren't inhabited, even if nature gradually absorbs them (you can still feel the presence of people; you can still hear the sound of a window closing, the sound of footsteps, etc.). Also these places have their own identity, their physical identity, their own materiality that you can feel in the houses' ruins, in the stones, in the ground, in the clouds, in the water, or in the shadows. With these travels the Manuela Barile seeks to track down, to catch, to interrogate the signs of life and memory in places where everything seems finished and life ceased. Every disappearance, although painful and dramatic, always preludes to a new presence.
Manuela Barile is an italian born vocal artist and an interdisciplinary performer who lives in Portugal. She explores the voice in all its possible musical and spoken expressions, employing Western and Oriental vocal techniques, as well as those of her invention, without recourse to any electronic manipulations. Her artistic works consists on the combination of her sounds with different medias (art installation, concert-performances, photography, video, drawing, writing). Through simple actions of everyday life, she creates situations where the artist is just a mirror where people can project their experiences, memories, fears, limits and contradictions.
Duncan Whitley (UK)
"G.D. Parada"
Duncan Whitley presently develops the second round of a sound project about a small amateur football club in the Nodar area, Grupo Desportivo de Parada de Ester (Castro Daire). He seeks to explore the role of GD Parada within the local community of Parada de Ester, through detailed soundscape work, which focused on the team, both in training and in competition. Recordings at training sessions involve a variety of recording techniques in order to capture the sounds of training drills and exercises. This project follows other similar ones developed about English football clubs (Coventry City, Brighton Hove Albion and Reading).
Duncan Whitley is an English artist (trained in the visual arts) and sound recordist whose recent work has focused on collecting, analysing, categorising and editing raw material extracted from the social and urban fabric. He is interested in the social and documentary values of sound as a medium, and his work explores the use of sound and new media to develop alternative narrative forms. Recent projects include an archive of audio recordings documenting tower block demolitions around the UK; an ongoing collaborative project (with composer and artist James Wyness) centred around multiple perspective sound recordings exploring aspects of the Semana Santa processions of Seville, Spain; and a searchable audio archive which documents the songs and chants of the Coventry City FC fans during the last ever matches at their historic Highfield Road stadium.

http://www.shotgunsounds.com
Luís Costa (Portugal)
"Aldeias Sonoras"
"Aldeias Sonoras" ("Sound Villages") is an educational project, coordinated by Binaural that consists on the recording, editing and mapping of the acoustical heritage from Portuguese rural areas, along with the study of their geographical, historical and socio-cultural specific contexts. "Aldeias Sonoras" encourages students from rural areas to "open their ears" to the surrounding acoustical world, involving them in an analytical and collaborative process of capturing, editing and web posting of specific sound environments from each village or rural landscape. The projects seeks to put in evidence the sound richness of the Portuguese rural world and the necessity of recording it, involving young people in that process, promoting in parallel a sense of identity and self-esteem towards countryside life.
Luís Costa is a founding member and currently the president of Binaural and Associação Cultural de Nodar. Having a long standing interest on the new media arts (since the early 90's), he has been a regular collaborator of contemporary arts and rural development magazines. In 2005 he developed a theoretical and historical contextualization on sound art for a workshop held at MUSAC – Contemporary Art Museum of León, Spain. Within the scope of Fronte
[i]ras 07 – International Meeting of Transdisciplinary Arts he coordinated the conference sessions with the presence of the participating artists and invited theorists. He is also responsible for a regular and itinerant program of documentary films' exhibition in the most isolated villages of the S. Pedro do Sul municipality. Luís Costa has also been involved in several curatorial activities and coordinates the "Sound Villages" education project.