MOROLOJA
A video installation by Manuela Barile
Performas – Estúdio de Artes Performativas, Aveiro (PT)
From 9 – 19 September 2009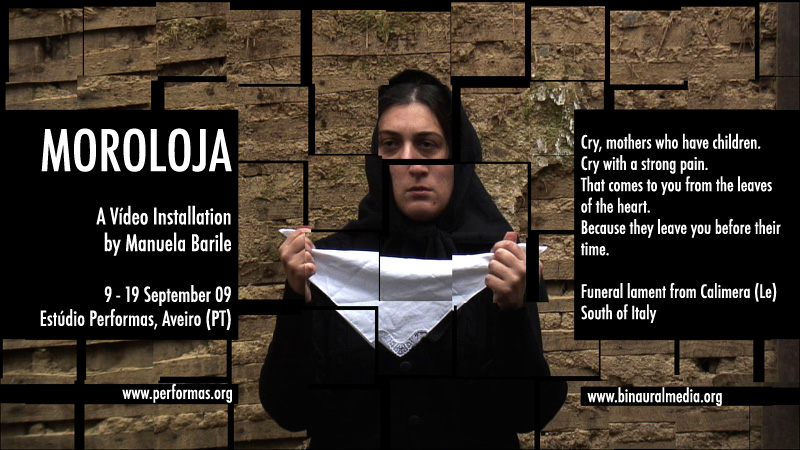 The multidisciplinary artist and Binaural member Manuela Barile presents from September 9th – 19th 2009 a video installation entitled "Moroloja" that was conceived and developed at Nodar Artist Residency Center (S. Pedro do Sul, PT) last November 2008 and consists in a sound and visual research about the symbolic and ritual experience of mourning.
Additional information:
Performas – Estúdio de Artes Performativas
Teatro Avenida – Largo do Mercado, 1
3800-223 Aveiro
Tel. (+351) 234 192 331
MOROLOJA
Moroloja is an 11 min. video, inspired by Homer's hymn to Demeter. It shows a young woman dressed in black clothes. She is alone, seated on a chair inside an abandoned house in Nodar (Portugal). She is Demeter, the goddess of grain and fertility. She is suffering alone, because she lost her daughter. She is living the experience of mourning. In her pain, she is human and vulnerable. After the immobility, a ritual crying and chanting begin, one that evokes the mourning wails of Salento, the southern part of Puglia, the Italian region where I was born.
The "Moroloja" are chants of the "prefiche", women paid to wail during the mourning vigil of someone's death in Salento.These women used to sing harrowing songs with violent and frenetic mimic, mixed with cries and shouts. They carried a white tissue on their hands that was shook, rolled up and pulled, creating a sort of rhythmic dance. In these old chants there were no references to the Christian concept of death and resurrection. After life there is only dissolution, the dark night. In these chants, quotations of Thanatos (the personification of death) and the fairy Fate who determines destiny were frequent.
Moroloja is a reflection about the experience of pain. The experience of pain is experience of loss, of mourning. Those affected by pain enter into a process of estrangement, moving away from the world because one can never communicate to the others suffering until the end. Pain is intimate recollection, suffering binds us, holds us in the limit, it exposes our existence to its frailty. Solitude and suffering pervade each other. However, the pain of the individual cannot be separated from the pain of all, the pain of the world. Pain and existence is the only thing. The individual pain therefore refers to a cosmology of pain, a sense of universal suffering.