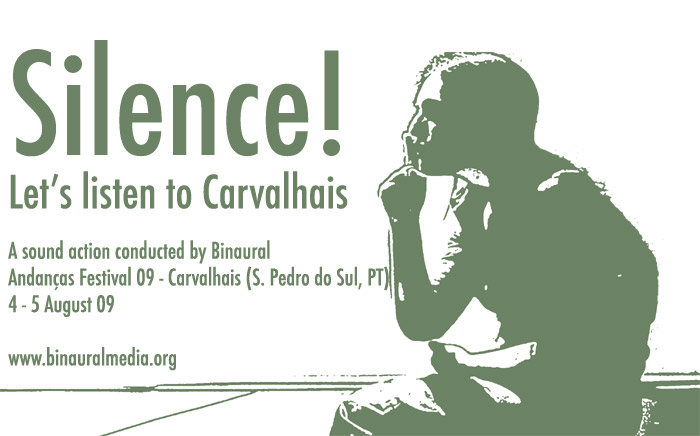 On August 4th and 5th, 2009 Binaural conducts a sound action within the context of Andanças  09 – 14th International Festival of Popular Dances. This action, entitled "Silence! Let's Listen to Carvalhais", consists on a soundscape listening, recording and editing workshop (to be carried in the Portuguese rural area of Carvalhais, S. Pedro do Sul). The output of this workshop will be a 30 minutes sound piece that will then be broadcasted in multiple ways (using the festival's PA systems, walkie-talkies, a portable radio transmitter to be installed by Binaural, etc.). The registered participants (a total of 10) will also design and build several placards to announce the sound action, to be shown a couple of hours before its beginning.
This sound action is coordinated by Luís Costa (author of the educational project "Aldeias Sonoras") and has the help of sound artist Rui Costa on the composition with the recorded material.
Program:
Tuesday, 4 August 09:
9.30 a.m. – 1.30 p.m. – Soundscape listening and recording around Carvalhais (S. Pedro do Sul, PT)
4.00 p.m. – 7.30 p.m. – Audio editing of the recorded material and composition of a 30 minute sound piece
Wednesday, 5 August 09:
11.00 a.m. – 1.30 p.m. – Sound tests and radio transmitter installation
3.00 p.m. – 6.00 p.m. – Building of several placards to promote the sound action
6.00 p.m. – 7.30 p.m. – Promotion of the sound action by walking around the festival's perimeter carrying the built placards.
7.45 p.m. – Broadcasting of the composed sound piece throughout the festival's audio systems, walkie-talkies and radios (duration: 30 minutes)
Note: The registration on this sound action should be done at the festival location on August 3rd.