Nodar Artist Residency Center
presents:
THREE CONTEXT-SPECIFIC ART WORKS
Saturday, 18 July 09 – 6.00 p.m.
Nodar, São Pedro do Sul (PT)
(Geo Coordinates  40° 55′ 5″ N, 8° 3′ 36″ W)

Ben Owen (USA)
"An Encircled Reflection: Resounding Nodar"
"For 'An Encircled Reflection', the medium, the material used to make this installation, is sound and physical space. I use my ears and a recorder to collect different sounds and make them into something else by combining them back into the environmental walk. 'An Encircled Reflection' maps a territory through installation where an open framework is interpretive, where sound made by the artist is discoverable on the same level as the soundscape itself. The piece features unprocessed and composed musical pieces that comprise natural and electronic sounds which are shaped into subtle compositions on the path around Nodar. I have recorded ordinary sounds; like birds, flies or crickets and patched them together into the landscape. This 'music' plays from non-visible speakers inside the landscape where the attention blurs between what is created and placed by the artist and the soundscape that exists already. I am not interested in expressing ideas in the form of music, but rather about interacting with something which is already there. In exploring the fusion of our senses I am inviting the audience to stop for a moment, to listen to the sounds and to think about where and what they are coming from and their place in this environment."
Ben's current work includes improvised and graphic score based performance, audio and video collaborations. Early sound studies began with cassettes and live radio, in tandem with stone lithography printmaking and photographic slide projections. His process of lithographic printing is balanced by the intended preservation and natural degradation of marks. he finds complimentary inherent similarities between the cycles of inking and surface reception of printmaking, mark making through drawing on printing stones and audio marks amplified by contact mics and environmental recordings. He is interested in the relationship between the spatial aspects of existing sound fields, intervened environments, and the projection and reflection of light. Locations are an active and physical palette, much like an improvisational setting where control is relinquished. through mark making, and an attention to instability he continues the practice of listening and response.
Marta Bernardes & Ignacio Martinez (Portugal / Spain)
"Phonetic Fauna" (Open Rehearsal): Multimedia Performance
"A voice and a violin search for each other, they seek on their possible meeting the echoes of an immanent animality .
"The human and the animal voice, their possible meeting or maladjustment, the particularities of their coexistence amongst the people of Nodar, are the main axis for the project, either on the guidelines for the treatment of the audio-visual-performative material and for the treatment of objects that focus on the building of sculptural-sonic devices inspired on the local environment: their anatomy and their shapes. There is room for improvisation, for the presence and experience of both place and instant. Bearing in mind the fact that we are speaking about voices, the heritage of experimental poetry, either sound or visual, is extremely important, because it is difficult to forget the long-standing links between the human voice and the writing; the connection between the animal voice and the body and its secret deadly evidence of vitality, that is, of perenniality."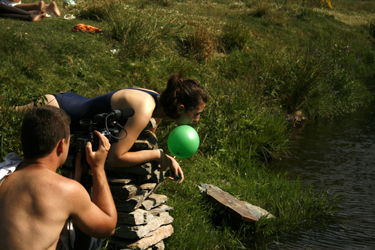 Marta Bernardes is a Portuguese artist based in Spain who works in the areas of performance and audiovisual arts. She holds a Master Degree in Psychoanalysis and Philosophy of Culture by the Philosophy Faculty of Madrid. She has been attending workshops in Spain, Portugal, Netherlands and Belgium and has presented performances in several Portuguese venues. Ignacio Martinez is a Spanish musician and sculptor. He holds a degree in Fine Arts by the Complutense University of Madrid and has been presenting several musical and theatrical projects throughout Spain.
Luciana Ohira & Sérgio Bonilha (Brazil)
"Amphibious experiments: Sound and Light Installations on the Banks of the Paiva River"
"After we got to know Nodar a world of silent things lifted the dust from our smoky memories of São Paulo, mixing them with legendary foggy nights with ancient figures going up the rivers of Piratininga, always rowing the same misty ships – visions of distant universes, however specific to a place. Thus backed up by the absence of scientific exactness, we hereby present our modest homage to the immense water veil that covers the stones' soft sleep, infinitely negotiating the passage of time as a witness of the surrounding live…
A village sews the valley (lasers, mirrors and paraffin)
without leaving its place (talcum, electronic components, audio recordings)
where all meet together (plaster, electronic components, audio recordings)"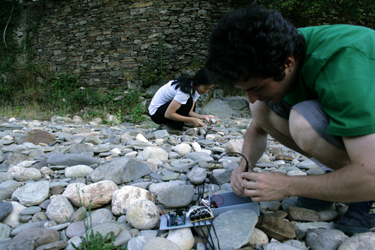 Luciana Ohira (1983) and Sergio Bonilha (1976) were born and grew older in the city of São Paulo and they both hold a degree in Visual Arts by the São Paulo University. They currently attend a Master in Visual Poetics on the same university and have presented their machineries in three of the world's four corners.