Binaural and Lugar do Capitão present:
Jam session with Eddie135 (electroacoustic improvisation) + Manuela Barile (vocal performance)
Wednesday, 22 April 09 at 10.00 p.m.

Lugar do Capitão, Viseu (PT)
Rua do Gonçalinho, 84-86
http://www.myspace.com/lugardocapitao
Eddie135 is a French electroacoustic duo that was invited by Binaural to come to Viseu in the context of their Portuguese tour. Their music is based on improvisation from any sound source (-diy or not- synthesizers, microphones, cracklebox, guitar,…) then going through a variety of effects.
http://www.myspace.com/therealeddie135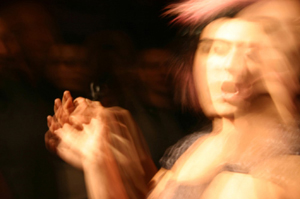 Manuela Barile is an italian vocal researcher and interdisciplinary performer who currently is co-artistic director of Binaural. Her artistic research is based on a project-oriented work that combines vocal sounds with different media (field recording, video, photography, installations, performance, improvisation, concert-performance, writing). As a vocal performer she has colaborated with many artists from the European and North-American improvisation scene such as Mario Volpe, Gianni Lenoci, Marcello Magliocchi, Amy Denio, Phil Minton, Tristan Honsinger, Antonio Mainenti, Rinus Van Alebeek, Rui Costa, Paulo Raposo, Antez, Ernesto Rodrigues, Nilo Gallego, Dennis Bathory-Kitsz, Madame Cell, Maile Colbert, Pali Meursault, Cédric Anglaret, etc.
http://www.myspace.com/manuelabarile
The poster of Eddie135's Portuguese tour: