Nodar Artist Residency Center presents:
The Order of Terraces and Stones
4 Contextual Art Projects
Public Presentation
Saturday, April, 4th 2009, 3.00 p.m.
Nodar, S. Pedro do Sul (Portugal)
Four visual art works developed in close connection with the rural environment of Nodar and of some neighbour villages (Sequeiros, Rompecilha, Covas do Monte and Parada de Ester)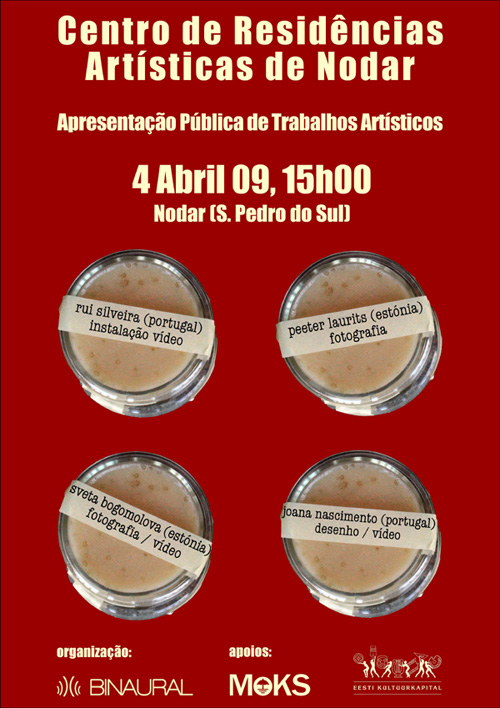 Rui Silveira (Portugal)
"Abrigo" | Video installation
In a region where the traditional architecture has suffered profound transformations – both as a result of new materials and building techniques being introduced and of the importing of foreign architectonical models – we often feel that there is a different time surrounding autochthonous buildings. Theses houses, many of which were abandoned in recent years, more than simple shelters, were essential places for the families' daily lives. These extinct gestures and actions still echo in its stone walls. These are memories invoked throughout the empty rooms, recollections of its inhabitants who still remember the time when those rooms were filled with life. Also, the objects that were left behind tell us stories. We could speak of a different time inside these houses, a time indifferent to our presence, indifferent to the present, a time that speaks about territorial identity, about a particular way of building and inhabiting it, by the use of materials, that connects with landscape in an almost mimetic way. From recordings of both the inhabitants' memories and from the overall soundscape, an hybrid audiovisual object emerges. One that is both connected with a documentarian vision and with a more experimental language developed around the sonic universe of the two major materials used for building houses – the stone and the wood.
Rui Silveira was born in Campo Maior in 1983 and presently lives in Lisbon. He holds a BSc in Communication Design by the Fine Arts Faculty of Lisbon and even though his formative years have been devoted to graphic design, he always tried to focus his work towards an audiovisual practice. The possible relationships between sound and image (video or photography) have captured his interesting since the beginning. He participated with his own pieces in the Collision Festival (London) and in Rencontres Internationales  (Paris).

http://www.ruisilveira.com
Peeter Laurits (Estonia)
"City of Goats" (working title) | Photography
Peeter Laurits' work in progress "City of Goats" (working title) dealt with nearby Covas do Monte village. It is a village that seems to have changed a little during the centuries, still keeping its traditional way of life. He explored the architecture of this small community with photographic means, making use of both straight and computer-enhanced photography.
Peeter Laurits (1962) is an Estonian visual artist whose work is developed around photography. He carried his studies in the cities of Tallinn, Tartu, San Petersburg and New York.  He has been exhibiting his work internationally since 1989. He was co-founder of the art collectives DeStudio and Open Valley Studio. Some of Peeter Laurit's works are part of collections such as the Estonian Art Museum, the Tartu Art Museum, KIASMA, the Norton Dodge collection and many other private and public collections. Presently he lives in a forest located on the south of Estonia, by the Kütiorg valley.
http://web.me.com/peeter.laurits
Svetlana Bogomolova (Russia, Estonia)
"Body Material" and others | Photograhy, Video
Svetlana Bogomolova is very much interested in some invisible detail of things around us – details that are always there but nobody see them. She tries to find them and show to the others. In Nodar she developed several projects all dealing with invisibility and transiency. "Body material" is a series of portraits of people living in the village  of Sequeiros near Nodar. In this series Sveta took portraits of people in a usual way and also a portraits of something invisible in them – She grew molds on the body material of these people. She asked people to give a part of their bodies – like hair, or water from washing their hands – and also collect some material that floats in the air of the rooms where they live, and put them onto nutritious substrate. Later mold start to grow on the substrate and photos of it, it's forms and colours is also a  portrait of those people – in an unusual way, of something hidden, but still present there. Asking people for parts of their bodies and revealing these hidden portraits is a very intimate process for the artist.
The other part of Sveta's work in Nodar were three videos works about transiency of everything about us, about the finiteness – that unites people, animals and landscape, it is not sad but calm and poetic. That is her perception of Nodar – nothing like overall depression of the North where she comes from but self-sufficiency and knowledge that everything will come and go. This knowledge is so ancient, feminine and gives much power to her – this may be called mystics but may be just called peacefulness and confidence.
Born in 1981 in St. Petersburg, Russia. Currently live in Tartu, Estonia. She is graduated in media and publicity by the Tartu Art College. She Works in the areas of photography, video, performance, installation, graphic design and multimedia. She is a member of MoKS – Center for Art and Social Practice and has been participating in several exhibitions, screenings, performances, audio and video installations. She also works in the areas of video art, as a VJ and as a graphic designer.
http://www.svetabogomolova.com
Joana Nascimento (Portugal)
"SimLugares" | Drawing, Video
"SimLugares" ("YesPlaces") is a project that has an interest with territory and landscape, in the sense of a connection between people and their (rural) context and of interaction between people and space (of its uses and ownership). Trying to resist Marc Augé's interpretation of non-places, Joana is more interested in a concept of commonplace associated with a psycho geographic recognition of a place. Following Henri Léfebvre's (a Marxist thinker) words, the activation of a place is made through its own dynamics and the meaning of a specific space is less related to its construction than with the uses that it allows.  In this project the artist sought to produce a series of maps (mental, conceptual, cognitive) based on oral indications from the local inhabitants about the personal practices in the space of Nodar.It is a question of seeking to understand a place through associated images, memories and uses, and with these elements to expose the way people connect with the surrounding landscape.
Joana Nascimento is a Portuguese visual artist. She holds a BSc in Fine Arts – Sculpture by the Fine Arts Faculty of Oporto, where she is currently developing an investigation called "Territorialization of Spaces,
[In] Visibilities – An approach to 'performative' Space and Time in Artistic Practices for Public Space", in 2nd year Master of Art and Design for the Public Space. In 2006/07 she studied Scenography and Intermedia at Akademia Sztuk Pieknych w Krakowie, Poland. She is also a member of the "Inner-city" multidisciplinary working group, whose main concerns are local approaches to public space and participated in several collective exhibitions in Portugal, Spain and Poland.