MOROLOJA
A video installation by Manuela Barile
Santa Clara Gallery, Coimbra (PT)
From February, 7th until March, 26th 2009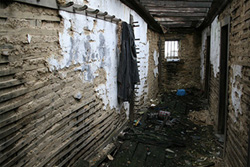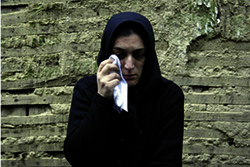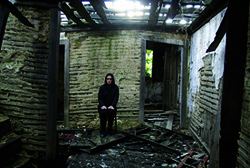 The multidisciplinary artist and Binaural member Manuela Barile presents from February 7th until March 26th 09 a video installation in the context of a collective exhibition at Santa Clara Gallery in Coimbra. This collective exhibition, entitled "The Mistery of Narcisus" is curated by Olga Maia Seco and besides Manuela Barile's piece, includes visual arts works by António Santos, Bruno Gonçalves, Ilídio Salteiro, Lília Catarina, Marta Castelo and Rita da Costa. Manuela Barile's installation, entitled "Moroloja", was conceived and developed at Nodar Artist Residency Center (S. Pedro do Sul, PT) last November 2008 and consists in a sound and visual research about the symbolic and ritual experience of mourning.
Additional information:
Santa Clara Gallery
Rua António Augusto Gonçalves, 67
Santa Clara – 3040 – 241 Coimbra
Portugal
Tel. 239 441 657
Exhibition dates:
Every day since February 7th until March 26th 09, from 2.00 p.m. to 02.00 a.m. (Friday and Saturday from 2.00 p.m. to 03.00 a.m.)
Exhibition opening:
Saturday, February, 7th at 5.00 p.m.
MOROLOJA
In a hymn to Demeter, Homer said that when Hades, the God of the underworld, rapped her daughter Persephone:
"A bitter pain seized her heart, and she rent the covering upon her divine hair with her dear hands: her dark cloak she cast down from both her shoulders and sped, like a wild-bird, over the firm land and yielding sea, seeking her child. But no one would tell her the truth, neither god nor mortal man; and of the birds of omen none came with true news for her. Then for nine days queenly Demeter wandered over the earth with flaming torches in her hands, so grieved that she never tasted ambrosia and the sweet draught of nectar, nor sprinkled her body with water."
Moroloja is an 11 min. video, inspired by Homer's hymn to Demeter. It shows a young woman dressed in black clothes. She is alone, seated on a chair inside an abandoned house in Nodar (Portugal). She is Demeter, the goddess of grain and fertility. She is suffering alone, because she lost her daughter. She is living the experience of mourning. In her pain, she is human and vulnerable. After the immobility, a ritual crying and chanting begin, one that evokes the mourning wails of Salento, the southern part of Puglia, the Italian region where I was born.
The "Moroloja" are chants of the "prefiche", women paid to wail during the mourning vigil of someone's death in Salento.These women used to sing harrowing songs with violent and frenetic mimic, mixed with cries and shouts. They carried a white tissue on their hands that was shook, rolled up and pulled, creating a sort of rhythmic dance. In these old chants there were no references to the Christian concept of death and resurrection. After life there is only dissolution, the dark night. In these chants, quotations of Thanatos (the personification of death) and the fairy Fate who determines destiny were frequent.
The "moroloja" are chants improvised on a traditional canvas; the verses are in "Griko" (a language, derived from Greek, which is still spoken in some Salentine villages,) and alternate with strophes from the local dialect. The "moroloja" were improvised and adapted according to the circumstances, to the audience's expectations, to the gender and degree of kinship those women had with the person who was in greater suffering.