VOZES DE MAGAIO FESTIVAL
Magaio Voicescapes: First Cycle of Artist Residencies
Public Presentation of Sound and Media Works
Saturday, 21 May 2011, 5.00 – 7.00pm
Old Primary School of Fujaco
Coordinates: 40° 50′ 42.21″ N, 8° 4′ 42.65 W
-c: Pedro Tudela and Miguel Carvalhais (Portugal)
Pierre Gauvin (Canada)
Suzanne Barnard (USA)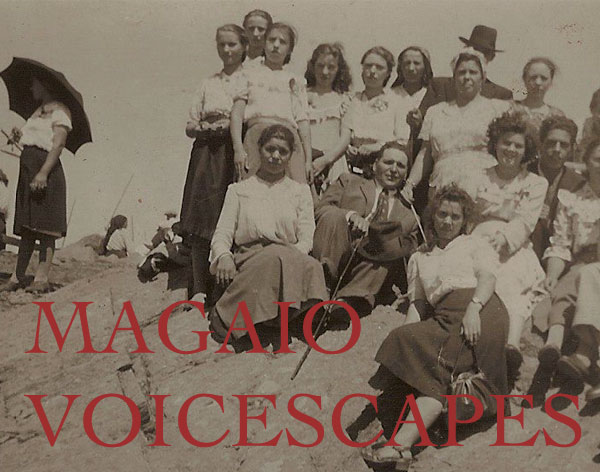 Presented Works:
-c: Pedro Tudela and Miguel Carvalhais (Portugal)
There is something in verbalization that has a different consciousness from that of a seen and read text: The suspensions, the breadth, the attack and the release of words or phrases. These, together with timbre, are modes related to speech that contribute to differentiate, personalize and identify the voices that speak. In singing, in praying or even in giving a speech, these truths dilate, as the spoken words present themselves extended with the amount of harmonics and tones. Separating these additive results and isolating them with subtractive processes transforms the intelligibility of speech into noise, which doesn't relinquish or completely rejects the filter to which it was subjected but proposes a new sonic plasticity, free from the initial narrative.
Miguel Carvalhais and Pedro Tudela have been collaborating together since 2000 as -c, developing sound or audiovisual work, when accompanied by the Austrian artist Lia. Their work uses three complementary approaches to sound art and digital music: procedural composition, musique concrète and improvisation. Throughout the years Tudela and Carvalhais have been creating progressively complex compositions, within the fields of experimental music, sound art and live performance.
Pierre Gauvin (Canada)
Regarding the rural voices of the Gralheira mountain range, Pierre Gauvin proposed to record people reading short texts. These texts are preferably personal. They are letters, found notes, texts written by the reader, his/her past or present relatives. The texts can be related to daily events, love letters, notes of any kind, fictionalized or real life stories. In summary, these texts from past or present stem directly from Gralheira. The texts will be accompanied by sound pieces composed with sound effects, environmental noises and acoustic instrument sounds played with accordion, flute, kalimbas, etc. The resulting sound pieces are embedded with the regional personality.
Born in 1959 in Montmagny, Pierre Gauvin grew up in Thetford Mines and Victoriaville, in the province of Québec, Canada. He studied photography, cinema and electro-acoustic music at Concordia University, in Montreal, and is a photographer, performer, electro-acoustic musician and writer.
Suzanne Barnard (USA)
A sonic and sub-visual topography of a nocturnal sacred "landscape" of the Magaio villages. The work has the form of a 10-minute experimental movie where the voices and the sounds guide the video shooting. The artist's interest is focused on working with the oral / aural and visual elements as well as the synesthetic manifestations of voice. Each "place" on the topography is animated by people who give voice to the mysterious, sacred, spiritual, ancestral and/or the experiences that they had during or after sunset at a given place of their village, whether alone or with others: mysterious experiences of nature or with animals, an extraordinary dream about a place, a conversation with their ancestors at a significant place, or a vision, revelation, a sacred encounter (a sign of the divine, a message from an angel, a gift from the spirit world, etc.).
Suzanne Barnard is an associate professor of psychology at Duquesne University (Pittsburgh, PA, USA), an experimental narrative filmmaker and a clinic psychologist. She obtained her PhD degree from Loyola University in Chicago and concluded a post-doctorate at Georgetown University and a digital cinema degree at the New York University.
Complete program of Vozes de Magaio Festival: http://www.binauralmedia.org/news/en/archives/1856