Binaural U.S. Tour 2009
Lectures | Workshops | Concerts
January, 21st – February, 17th 2009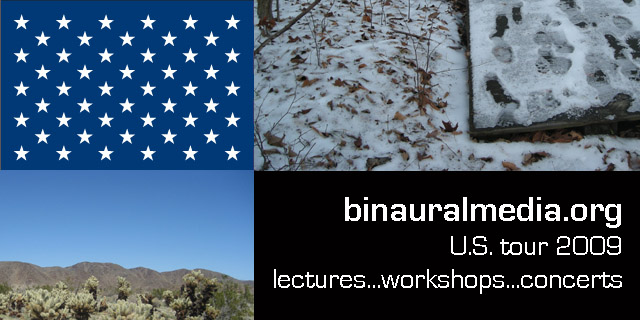 Between January, 21st and February, 17th 2009, Binaural founder and sound artist Rui Costa and the sound/video artist Maile Colbert will conduct a series of lectures, workshops and concerts hosted by US universities and cultural organizations. Through this tour, Binaural seeks to share with artists, students and communities from across Atlantic the experience of an immersive and committed site-specific art practice and of creative interaction with rural communities. A particular focus will be given to the different possibilities of working with sound in a site-specific manner.
As part of the lectures, some excerpts of works developed in Nodar will be presented, by such sound / video artists as Martin Clarke & Alicja Rogalska, Vered Dror, Maile Colbert, John Grzinich, Aaron Ximm, Pablo Rega & Oscar de Paz, Jurate Jarulyte Weiss, o.blaat, Pali Meursault, Viv Corringham, Rui Costa & Manuela Barile, Suzanne Caines, Christine Niehoff and Xesús Valle.
Full Program:
Wed, Jan. 21st – 8.00 pm
Massachusetts College of Art and Design, Boston, MA
http://www.massart.edu/
Screening and Lecture
Sun, Jan. 25th – 9.00 pm
Share NYC, NY
http://www.share.dj/
Concert by Maile Colbert and Rui Costa: "The Future Memory Project"
Mon, Jan. 26th – 2.00 pm
Muhlenberg College, Allentown, PA
http://www.muhlenberg.edu/
Conference and Workshop

Mon, Jan. 26th – 8.00 pm
Muhlenberg College, Allentown, PA
http://www.muhlenberg.edu/
Concert by Maile Colbert and Rui Costa: "The Future Memory Project"
Wed, Jan. 28th – 9.00 pm
Hallwalls Contemporary Arts Center, Buffalo, NY
http://www.hallwalls.org/
Concert by Maile Colbert ("Transit") and Rui Costa ("The Future Memory Project")

Thu, Jan. 29th – 3:15 pm
State University of New York, Buffalo, NY
http://www.buffalo.edu/
Screening, Lecture and Workshop
Mon, Feb. 2nd – 4.30 pm
State University of New York, Binghamton, NY
http://www.binghamton.edu/
Lecture and Workshop
Thu, Feb. 12th – 8.00 pm
Echo Park Film Center, Los Angeles, CA
http://www.echoparkfilmcenter.org/
Screening and Lecture
Sat, Feb. 14th – 4.00 pm
Echo Park Film Center, Los Angeles, CA
http://www.echoparkfilmcenter.org/
Workshop
Sun, Feb. 15th – 7.00 pm
Los Angeles Filmforum, Los Angeles, CA
http://lafilmforum.wordpress.com/
Screening and Lecture
Tue, Feb. 17th – 7.00 pm
California Institute for the Arts, Valencia, CA
http://www.calarts.edu/
Screening and Lecture