Binaural in partnership with Teatro Viriato presents:
Sound Objects Workshop
Directed by Antonio Mainenti (Italy)

Dates: January, 15th, 16th and 17th 2009
Venue:  Teatro Viriato
Largo Mouzinho de Albuquerque,  Viseu (PT)
Cost per person: 30 euros
Max. number of attendees: 20
Min. number of attendees: 7
To register: on Teatro Viriato's ticket office until January, 13th (between 1.00 p.m. and 7.00 p.m.)
Information:  Tel. +351 91 895 18 57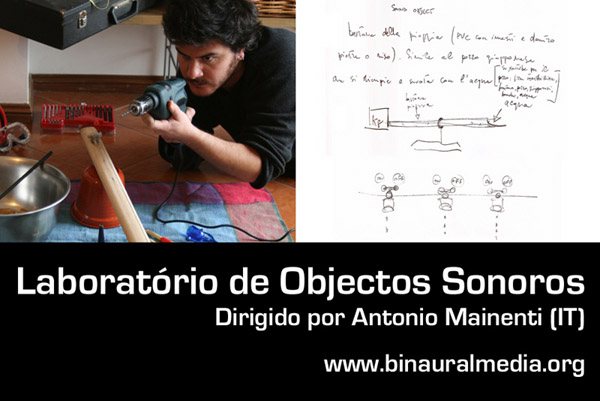 Sound is produced everywhere. A small corner, a hole, a valley are sufficient to generate sound richness. This workshop seeks the reappropriation of hidden sounds, the ones kept in the most unlikely spaces of our lives. Throughout the workshop, both natural materials and daily-life objects will be used in such a way that, after being transformed, they can produce unique sound universes, musical or not.
Workshops's structure:
Historical perspective on the use of sound objects (John Cage, Harry Partch, Fluxus, Fred Frith Reith Rowe, Akio Suzuki, Max Eastley, etc.). Samples of sound works.
Basic notions of physics-acoustics. Research on the acoustical properties of different materials.
Research and cataloguing of natural and artificial sounds. The sounds of natural elements (water, rock, stone, sand, air, plant, trunk, leaf, etc.) and of different materials (glass, wood, metal, plastic, etc.), in its different forms, dimensions and combinations.
Sound objects construction, seeking inspiration in the sounds previously collected and analyzed.
Collective composition following a graphical notation system and making use of different sound objects as instruments. Some of the sound objects will have musical possibilities; others will have non-musical purpose or will be used to generate unconscious or random sounds.
Performance-installation, presenting the collective composition and the spatial disposition of the previously built sound objects.
Any person interested in sound research, and in experimental artistic practice can participate in the workshop.
The workshop duration is 16 hours (4 hours on both Jan 15th and Jan 16th, and 8 hours on Saturday, Jan 17th)
For additional information, click here.