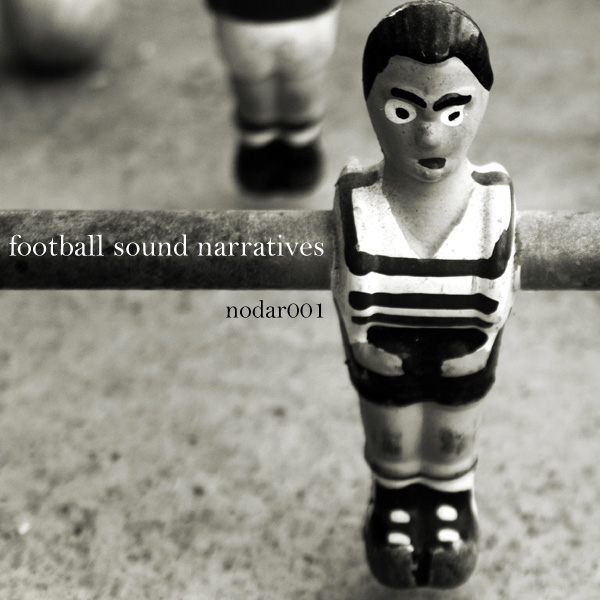 Football Sound Narratives
Edições Nodar, 2010
[nodar001]
A compilation curated by Rui Costa and Duncan Whitley
Cover image by Carina Martins
Cover art by Luís Costa
Football has for many years provided a rich field for investigation within the social sciences, being widely considered to "reflect" broader issues within contemporary society. The global economics of the game, the impact of sponsorship and television deals, the politics of team management, the psychology of the production of "winners" and "losers", the bodily performance of players, the creation of role models for youth, the process of myth-making in football, class and ethnic division amongst players and spectators, changing nationalism and racism within the context of the globalised game, and whole wealth of studies focused on issues of identity, have all been the source of recent anthropological and sociological research.
Football Sound Narratives is a web-based edition of sound works centred around specificities of the game of football: the selected works focus on both the professional and the amateur game, revealing issues rooted in individual and collective spectatorship, language and accent, the family, local legend, televised media and other global commercial trends.
This first release from Edições Nodar reflects on the sport as a field of inspiration for a panorama of musical and experimental sound creation. The collection of eleven sound works by international practitioners encompasses the genres of sound art, electroacoustic music, field recording, sociological research, vocal performance, radio production, laptop music, socially-engaged art practice and visual art installation.
Track List:
1 – Goalkeeper
Rui Costa: "Progressive Devuvuzelation of the World" (5m:39s)
2 – Right back
Luís Antero: "Euforia Encarnada OHP" (5m:37s)
3 – Left back
Emeka Ogboh: "Up Blues" (9m:50s)
4 – Centre half
Glenn Boulter / Aurelie: "An Unorthodox 1-2? (9m:34s)
5 – Centre half
Girls of St. Bernards School with Ian McMillan and John Hall: "The Al Mobility Story" (14m:50s)
6 – Defensive midfield
Davide Tidoni: "Col Cuore" (7m:33s)
7 – Right wing
Manuela Barile: "Forza Bari! Alé! Alé!" (10m:07s)
8 – Attacking midfield
Duncan Whitley: "You're Just a Small Town in Derby" (10m:00s)
9 – Centre forward
Tilman Küntzel: "World Cup 2006? (9m:20s)
10 – Centre forward
Pete Stollery: "Back to Square One" (10m:16s)
11 – Left wing
Harold Schellinx: "Le Zida Ne Passera Pas Par Moi…" (6m:29s)
[p] & [c] by the artists, 2010
Additional info:
http://www.binauralmedia.org/news/en/edicoes/nodar-001
Link to download sound files (mp3 – 256 Kbps), cover art and track list:
http://www.binauralmedia.org/edicoesnodar/nodar001/nodar001_256k.zip


About Us
Edições Nodar is a non-profit publishing project dedicated to sound, video and text works dealing with exploratory artistic practices that create awareness and question specific locational and anthropological contexts, and that seek to reveal the tensions between local cultures and the counter-pressures stemming from a growing globalised world.
Edições Nodar is coordinated by Binaural / Nodar, a sound art organization based in the small rural village of Nodar, Portugal, where since 2006 have been hosted over 70 sound and media arts projects in close connection with the local geographical and social contexts.
Edições Nodar will release a diversity of both digital and physical forms: mp3, ebooks, cdr, cd, dvd, and books of works created at Nodar Artist Residency Centre or specifically curated for publication.
Team
General Coordinator:
Luís Costa
Label Managers:
Rui Costa and Duncan Whitley
Submissions and Inquiries
Edições Nodar
Caixa Postal 119 – Nodar
3660-324 São Martinho das Moitas
Portugal
or
edicoesnodar-binauralmedia.org