Eight Cycle of Artist Residencies of Paivascapes #1
Moimenta da Beira and Vila Nova de Paiva Municipalities
2 to 15 November 2010
Patrick McGinley (US/EE), Marjia-Liisa Plats (EE), Luis Costa (PT) & Tiago Carvalho (PT)
The Nodar Artist Residency Program for 2010 has a single unifying theme: the river Paiva. Throughout the year, from winter to autumn several multidisciplinary artistic projects (which have sound as a key element) will be developed on a contextual perspective related to the various geographical areas of the river, from its source to its mouth.
Patrick McGinley (US/EE), Marjia-Liisa Plats (EE), Luis Costa (PT) & Tiago Carvalho (PT)
Art Project:
"Reventant: Paiva River" | Phonography and Improvised Music
'Revenant' is an ongoing project with open membership that focuses on site-specific acoustic actions. All sounds originate from materials found in-situ, and from interactions with the space itself. All activity is acoustic, and performances are given with no amplification. Thereby relative sound levels and spatialization are dictated by the space itself, co-habitated by performer and spectator until the boundaries between the two dissolve. The name revenant derives from a concept of spatial memory or, more specifically, of the long-term gestural memory of space; the ability of a location to retain an imprint or trace of activity or energy that has been present therein.
Artists working with the revenant project are always on the lookout for new and inspiring spaces in which to continue our explorations and the overall development of this project. The revenant project also looks to encourage open-ended collaboration, and initial sound explorations by individuals perhaps working with the medium for the first time. In this way the assertion of the 'artist' as 'virtuoso' is broken down and explorations of the instinctual nature of sound become possible. The Paiva River project is an ideal opportunity for a next step in the revenant: sound project – an extraordinary environment with a strong history interacting with a group of artists new to the space and potentially new to sound exploration.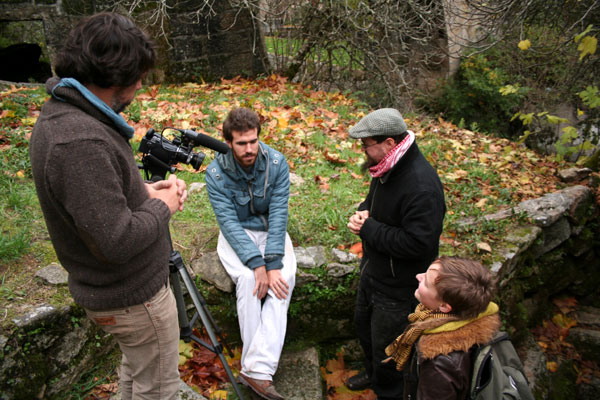 Artistic Biographies:
Patrick McGinley (aka murmer) is an American born sound and performance artist who has lived and worked in Europe since 1996. He has composed works for several theatre performances, including the works of his own company, as well as performing live soundworks for others. In 2002 he co-founded "framework", an organization that produces a weekly radio show on London's "resonance104.4fm". Murmer's most recent solo work, "we share a shadow", was published in late 2007 by The Helen Scarsdale Agency in San Francisco. In 2008 Prele Records published the first document of the collective revenant: sound project, entitled revenant:topolo. Revenant:sound comprises explorations in site-specific sound actions, performances, presentations, and workshops, and has been a main focus over the past two years.
Marja-Liisa Plats is a young Estonian Visual artist and singer. She has been working in illustration for children books and since 2007 has developed some performance and visual arts projects such as To the Roots (2010), Needle (2009), Mr Picture (2008), Things You don´t talk about (2008), Soap (2007) and Ö-letters (2007). As a traditional and experimental singer she is part of Vaikuse koosolek, a group of four Estonian singers who released their first album in 2010 ("Kassikontsert").
Luís Costa is a founding member and currently the president of Binaural / Nodar, the organizations that manage Nodar Artist Residency Center, a space devoted to media arts in a rural context. Having a long standing interest on the new media arts (since 1991), Luís Costa started to write articles and recensions in several fanzines and blogs. He has been a regular collaborator of contemporary arts and rural development magazines (
[up]arte, Aldeia, etc.). Between 2004 and 2006 he directed the first Portuguese blog fully dedicated to sound art (Binauralia). Within the scope of Fronte[i]ras 07 – International Meeting of Transdisciplinary Arts, organized by Binaural and Alg-a (Galicia, Spain), he coordinated the lecture and debate sessions with the presence of the participating artists and invited theorists. Since 2008, he coordinates the "Aldeias Sonoras" (Sound Villages") project, an educational program that consists on the sound mapping of rural areas with the participation of primary and secondary school students.
Tiago Carvalho is an Environmental Engineer with an interest in the area of sound. He is presently finishing his Master in in Nature and Environmental Philosophy. He has developed research in Envorimental Acoustics, Soundscapes and Urban Planning, Aesthetics and Landscapes. Since 2004 he has collaborated with Radio Zero, a Portuguese experimental radio station, where he produced several shows.