"Multi-Channel Sound" Workshop
Directed by Duncan Whitley
Teatro Viriato, Viseu (PT)
2 to 5 November 2010
Tue to Fri 7.30pm to 10.30pm
Capacity 12 participants
Price 20 Euros
Age rating 16+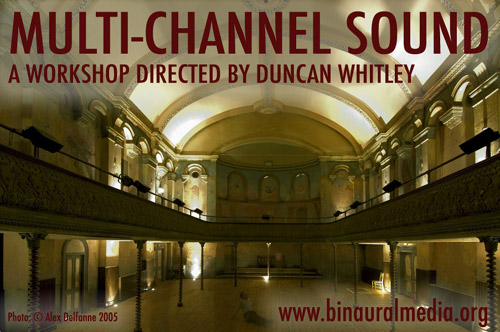 This workshop is part of Binaural / Nodar's Program of Workshops on Sound Experimentation and will examine the creative potential of sound as a sensual, sculptural and inherently spatial medium, whilst developing in parallel a theoretical framework based on acoustic communication.
The workshop will be directed by Duncan Whitley, an artist specialized in sound installations, and will offer an introduction to technical aspects of setting up multi-channel installation environments as well as to creative strategies for dealing with sound in physical space.
The workshop will combine a discussion of theoretical ideas with practical experimentation and will be taught in english.
Direction: Duncan Whitley
Technical Assistance: Luís Costa
Production and Photographic Documentation: Carina Martins
Addition information on the structure of the laboratory, here.
Additional information on Duncan Whitley, here.