Educational Project "Cidades Sonoras "
Alta de Coimbra
Mercado Quebra Costas, Coimbra
Saturday, 16 October 2010 (11am – 3.30pm)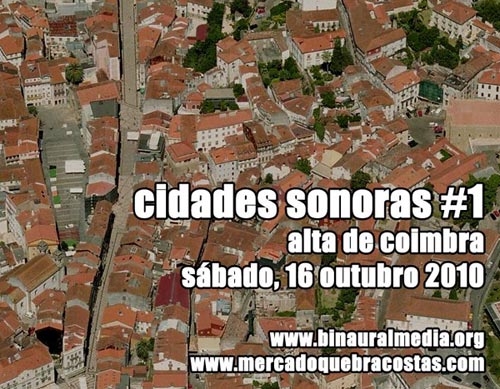 As part of a partnership with Associação Arte à Parte co-organizer of the  community-based project in the "Alta de Coimbra" area, Mercado Quebra Costas, Binaural / Nodar will develop the first installment of the sound mapping project "Cidades Sonoras", which intends to enhance the geographical and socio-cultural identity of certain urban contexts through the use of sound recordings and mapping made by youths of those areas.
More than mapping the sound of a whole city, the project main goal is to reveal particular details of well-defined areas within the cities and, therefore, to challenge the superficial understanding that all cities are made of the same kind of acoustic matter.
This first installment of the project will be carried out by children and youths of two social institutions of the city of Coimbra: Colégio dos Orfãos de São Caetano and Casa da Infância de Elísio de Moura.
"Cidades Sonoras" is a sister-project of "Aldeias Sonoras", which is being developed in Portuguese rural areas since 2009.