Binaural / Nodar features exclusively for Radio Future – Future Places, Porto:
Mountains and skylines
Comparative location-specific listenings in 4 installments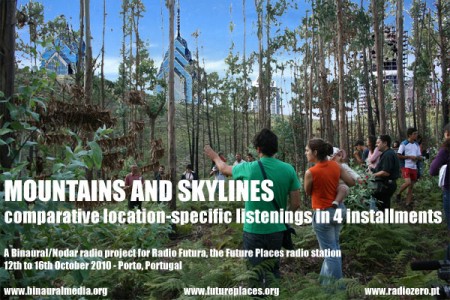 Nodar # 1 – Football Narratives Sound Mixdown
A sound piece by Binaural / Nodar from some of the pieces included in the "Football Sound Narratives" edition: 11 works from various authors that deal with anthropological / social / locational issues of the world of football and that will be the inaugural publication of the new label "Edições Nodar".
Nodar # 2 – Aldeias Sonoras Mix nr. 3
What sounds are present in our countryside? How many of them have irretrievably disappeared? What can we learn about the rural communities through the sound dimension? "Aldeias Sonoras" ("Sound Villages") is an educational project coordinated by Nodar Artist Residency Center, which consists in recording, editing and mapping the acoustical heritage of rural areas, along with their geographical, historical and socio-cultural contextualization. The project involves primary and secondary schools from Portuguese rural areas, and the piece to be broadcasted on this occasion is one of several composed from the sound recordings made in 2009 in the municipality of S. Pedro do Sul.
Nodar # 3 – "Sonata for clarinet and Nodar: modernity is the enemy"
A sound piece recorded in July 2010 in the landscape of Nodar, made the English sound recordist Jez riley French and  by Luis Costa, coordinator of the  Nodar Artist Residency Center, in which a 15 year old clarinetist (Joana Silva) literally intuitively deconstructs the piece "Solo de Concours", composed in 1901 by Henri Rabaud, walking through water, wind, snakes, dogs, brush cutters, aircrafts crossing the airspace on the way to fight fires, etc. thus questioning the rural landscape as a place of silence. The expression "Modernity is the enemy" was authored by Rabaud, a composer labeled as conservative, and gained an unexpected acuity with the profusion of "new noises" in the ancestral landscape of Nodar during the recording of the piece.
Nodar # 4 – "Sightseeing for the blind: x Aveiro Lisbon
A project by Rui Costa, Binaural / Nodar's artistic director. Comparative listenings of sound  wandering in Lisbon and Aveiro, particularly  in places visited by tourists, where cities assume a condition of simulacrum. The experience that a tourist has of a city is largely determined by the randomness of the impressions on the edge of consciousness, a permanent mapping between what one sees and desires, preconceived ideas, memories, etc.. The intention with this project was using this mental process as a starting point for the artistic creation. The project developed in Lisbon led to the release of a CD in the German label 1000 Füssler and the one developed in Aveiro was presented last August as a sound installation at Estúdio PerFormas in Aveiro (Portugal).
Credits:
Original idea: Luis Costa
Audio Editing Coordinator: Rui Costa
Compositions by Rui Costa, Luis Costa, Manuela Barile and Jez riley French
Production: Carina Martins
RADIO FUTURA is a partnership between Future Places Festival and Radio Zero.
Listen on 91.5 FM Port & futureplaces.org
October 12-16, 2010