Sixth cycle of Paivascapes #1 artist residencies
Arouca Municipality
1 – 14 October de 2010
Marc Behrens (DE)
Ignaz Schick (DE)
The Nodar Artist Residency Program for 2010 has a single unifying theme: the river Paiva. Throughout the year, from winter to autumn several multidisciplinary artistic projects (which have sound as a key element) will be developed on a contextual perspective related to the various geographical areas of the river, from its source to its mouth.
Marc Behrens (DE)
Art Project:
"Paiva Players" | Sound Art, Contemporary Music, Clairvoyance
The project involves two stages: The production of a number of recordings of 3 to 5 selected volunteers living in the designated area (in places along a section of the Paiva River) performing some daily activities that have a conjunction with the river. These recordings will be the basis for short sound pieces. The construction and installation of floating sound players which will move downstream or be anchored at different spots along a designated section of the river (where possible) and play back parts of these sound pieces. A river moves, yet seems to have a defined position in space and time. An occasional visitor might not be aware of details. People who live nearby rivers, and whose life are determined or depending on the rivers qualities, know best. Daily activities carried out by these locals might in turn look quite uniform, similar day in and day out – yet they are not. Even if the environmental conditions were stable, daily activities are object to mood, health, interaction with others, and of course, the river's conditions. I would like to explore a little bit of these relations between the Paiva River and a number of locals, asking them to perform some of their daily actions' constituent gestures more than once, like being caught in a choreography of repetition and alternation. This will be recorded as audio and used as material for sound compositions. Floating sound players in the Paiva River, playing back the results of the described process, bring the sound of the alternated daily activities back to the river itself, mixing it with the ever-changing, yet seemingly repetitive and constant noise emitted by the Paiva River, as it moves through and yet is geographically fixed within the landscape.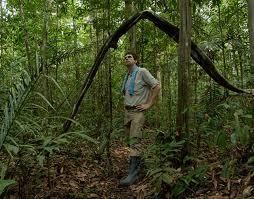 Artistic Biography:
Born in Darmstadt, Germany, in 1970, Marc Behrens works on several cerebral and physical levels. His works mainly consist of concrete electronic music, installations, the occasional photograph or video. Recent activities include field recording trips to remote western China and the Amazon rainforest, founding an incorporated company as a social art work, and staging a rite of passage for an investment banker. Behrens has performed and exhibited extensively across Europe, the Middle East, South Africa, North America, and East Asia, and developed collaborations with Achim Wollscheid, Bernhard Günter, Francisco López, Jeremy Bernstein, Nikolaus Heyduck and Paulo Raposo, among others.
Ignaz Schick (DE)
Art Project:
"The Paiva River Collection" | Sound Art, Installation
The idea for my project at Nodar would be to do extensive daily walks and explorations on the entire Paiva River valley and shores for about the first 7 – 10 days of the residency and to collect all kinds of different organic materials which can be found and to bring them back to the studio where I will be doing intensive research & experiments on them to learn and find out about their sonic possibilities. All this activity will be catalogued and documented and a sort of score/list will be compiled which becomes like an archive and pool of possibilities. In the last 4-5 the collected materials will be moulded into two different bodies of work:
1) a sound installation in which an example of each found object will be used. The characteristic of the installation will be similar to Little Stells or Ghosts/Vibrations. The soundmaking objects are mounted to nylon strings which again are connected to the membranes of speakers which transfer the vibration of low sine waves to the strings and put the objects in resonance & vibration…
2) a composition which will be performed live by the artists using entirely found organic materials from the Paiva River region. The performance will be mainly performed with the "rotating surfaces" set-up artists, which means that the objects are played directly on the rotating plate of the turntable and that their resonance & vibrations are just simply amplified with a small condensator microphone. Like this, I want to create a sonic topography of the river valley which is not directly referring to the usual and known soundscape. The idea is more to create a more or less abstract metalevel of a sonic topography from the given environment by having a kind of close-up microscopic view into some of this landscapes natural components and their hidden sonic potentials.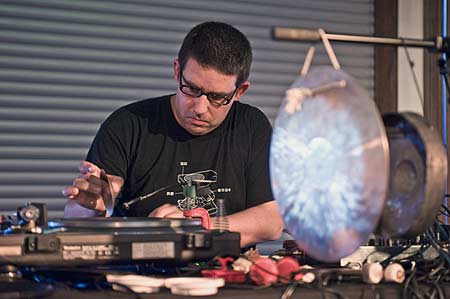 Artistic Biography:
Ignaz Schick is a Turntablist, sound artist, performer and composer. He was born in Bavaria and since the late 1995 he works and lives in Berlin where he became an active and integral force of the so-called "Berlin Nouvelle Vague" and the blossoming "real time music" scene. He has collaborated with numerous international artists (most notably Don Cherry & Charlemagne Palestine) and toured and performed in clubs & festivals all over Eastern- and Western Europe, Australia, Finland, Israel, Malaysia, New Zealand and USA. He released many albums on several labels and he was part of radio broadcasts and productions for ORF-Kunstradio, ORF-Zeitton, BR2, DLR, DLF, WDR3, DRS2 or Radio Copernicus. Furthermore he has been curating festivals of experimental music from the early 90s onwards (FAM, Erase & Reset, Tim Shifts, The International Turntable Orchestra…).