Resident Densities
Exhibition by artists who participated at Binaural- MoKS exchange programme in 2008- 2010
Y- gallery, Tartu, Estonia
4th-  21st of August, 2010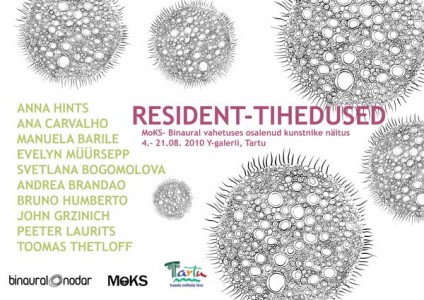 You are cordially invited to exhibition opening at August 3rd, 5pm
On the edges of Europe, two artist-in-residence centers Binaural/Nodar and MoKS have set themselves up, one in the Portuguese village called Nodar and in the other in the Estonian village of Mooste. In 2007 they decided to exchange artists between their residency centers. And so it happened… between 2008 and 2010 Binaural hosted 6 artists from Estonia and MoKS 4 artists from Portugal.
The first swallows landed in Nodar, in spring 2008; John Grzinich, Evelyn Müürsepp and Toomas Thetloff. In the fall of the same year Manuela Barile arrived at MoKS.  In spring 2009 Peeter Laurits and Svetlana Bogomolova worked at Nodar, while Andrea Brandão, Ana Carvalho and later Bruno Humberto settled for a while at MoKS. The ends were bound together by Anna Hints, who stayed in Nodar in spring 2010.
The creations of all these 10 authors was affected by a genius loci of relevant places, spirits of Mooste and Nodar. In the artists works it was revealed in different ways, either more through personal reflections (Bogomolova, Carvalho, Müürsepp) or via social contexts (Humberto, Thetloff), who used more ears and sounds (Hints, Grzinich, Barile) and who's eyes and colours (Laurits, Thetloff), and who through forest (Humberto) or through a garden (Carvalho) and even who went through the Sun itself (Brandão).
The current exhibition collocates a selection of works that were either produced during the residency or after, based on materials collected during the residency. As you can see , artists have implemented different ways of experiencing and reflecting the place as well as media.
Though artists have returned to their homes, the places (Nodar, Mooste) have left traces into the lives and works of artists, as much as artists have left their imprints onto these places.
Special thanks for all the participating artists! Svetlana Bogomolova, Anna Hints, Evelyn Müürsepp, Manuela Barile, Andrea Brandão, Ana Carvalho, Peeter Laurits, John Grzinich, Toomas Thetloff, Bruno Humberto.