Fifth Cycle of Artist Residencies of  Paivascapes #1
Castro Daire, São Pedro do Sul and Arouca Municipalities
15 – 28 July 2010
Jez riley French (GB)
The Nodar Artist Residency Program for 2010 has a single unifying theme: the river Paiva. Throughout the year, from winter to autumn several multidisciplinary artistic projects (which have sound as a key element) will be developed on a contextual perspective related to the various geographical areas of the river, from its source to its mouth.
Jez riley French
Art Project:
Without Title | Phonography, Photography
Using self built & commercial hydrophones, contact microphones & conventional microphones, my intention will be to capture an emotive impression of the Paiva River – including an in-depth exploration of the architectural spaces both created by the river (natural) and along its banks (manmade). The aim of this project is to bring out a combination of my simple personal experience of taking explorative and joyous journeys along the river and a re-stating of hidden detail contained in the many facets of the river and its connected structures. Surface vibrations, both relatively static and those influenced more heavily by the flow of the river, will form an essential aspect of this work, alongside photographic images capturing further uncovered details of the environment in question.
Coming as I do from an area of England that is criss-crossed with waterways of various types: rivers, streams, canals etc – water has formed an important aspect in my development as an artist using field recording methods. I intend to use my time at Nodar working not only on the core sound work & accompanying images but also placing some of the recordings & images into a series of photographic scores – visual notations for field recordings & ensemble.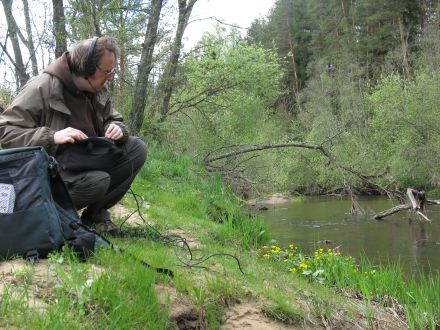 Artistic Biography:
Jeremy Riley (aka Jez Riley French) was born in England and has been a sound and visual artist with a diversified work since the late 70's. He is freelancer as a reporter of experimental music, photography and sound arts, and has collaborated with 'The Wire' magazine; he is often invited to give conferences in several art schools (Leeds School of Contemporary Art & Design; Hull School of Art and Design). He has published numerous audio CDs and organizes and directs several workshops. He has been presenting audiovisual performances throughout England, Austria, Check Republic, Germany and Japan.
http://jezrileyfrench.blogspot.com/
For additional information on Paivascapes #1, click here