Binaural / Nodar and Teatro Municipal da Guarda (PT) present:
Phill Niblock (US) and Katherine Liberovskaya (CA)
Thursday, July 15th 2010 – 9.30 p.m.
Teatro Municipal da Guarda (PT)
Pequeno Auditório (Small Auditorium), Entrance: 5,00€
Rua Batalha Reis Nº 12
6300-668 GUARDA
PORTUGAL
http://www.tmg.com.pt
Set one: Live Video by Katherine Liberovskaya, with Live mixing of audio pieces by Phill Niblock
Set two: Music and Film (video) by Phill Niblock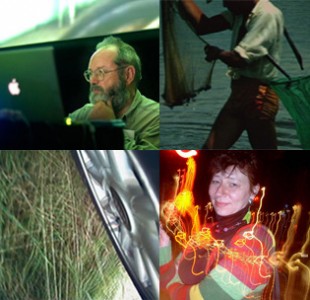 Phill Niblock (b. 1933, in Anderson, Indiana) is a composer, filmmaker, videographer, and director of Experimental Intermedia, a foundation for avant-garde music based in New York with a parallel branch in Ghent, Belgium.
Phill Niblock makes thick, loud drones of music, filled with microtones of instrumental timbres which generate many other tones in the performance space. Simultaneously, he presents films / videos which look at the movement of people working, or computer driven black and white abstract images floating through time.
http://www.phillniblock.com
http://www.experimentalintermedia.org
Katherine Liberovskaya is a video/media artist based in Montreal and New York. Involved in experimental video since the 80s, she has produced numerous videos, video installations and performances shown around the world. Since 2001 her work predominantly focuses on collaborations with composers and sound artists notably in live video+sound performance.